There is a time in your life when you choose to put roots down somewhere and that time is upon us. Living in the Bay Area is taking its toll financially and we have been talking about moving back to the East coast recently. Every April we travel home to visit family and decided to take a baby free trip to Asheville, NC to scout the area. I have been stalking The Travel Channel for months, researching all the episodes that Andrew Zimmerman and other travel hosts shot in this gorgeous mountain town. Combined with some google research, I've compiled a list of top 10 reasons to visit Asheville, NC!
Oh man…..the 5 hour drive from Calabash to Asheville will have anyone beyond ready for a cocktail. Thankfully Mayfel's, a Cajun restaurant in downtown Asheville had our backs with their BUILD YOUR OWN BLOODY MARY BAR!!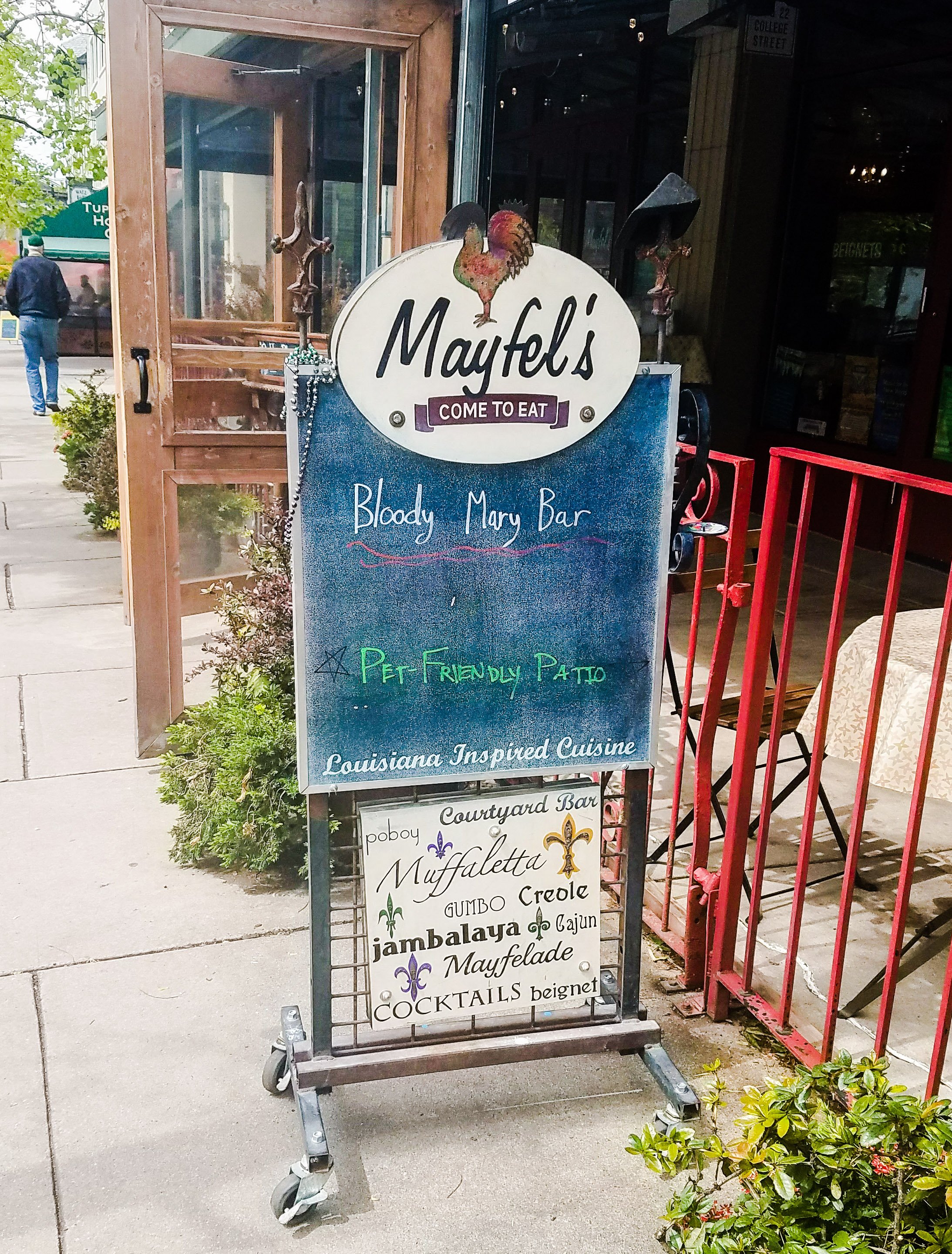 (Sidenote: Grab a patio table if you can for quicker service)
Upon ordering, the waitress brings an AMPLE amount of vodka with a splash of ice to make a stiff one to start your day! For $8 you can have a well vodka bloody, but pay the $2 for the better libations (Ketel One or Stoli).
I recommend the housemade spicy mix versus plain tomato juice for a delicious drink to start your day! Go crazy with the toppings too so you can get all your veggies in 😉
This place is costly but if you are visiting the Asheville area, you HAVE to come. Tickets are $65 in advance and include; entrance to the garden, the house and a wine tasting as well. Do purchase in advance as they are $10 more when purchased day of.
This massive private estate is a Châteauesque-style mansion built by George Washington Vanderbilt II between 1889 and 1895 and is the largest privately owned house in the United States. You could spend whole day and STILL won't cover the estate in its entirety.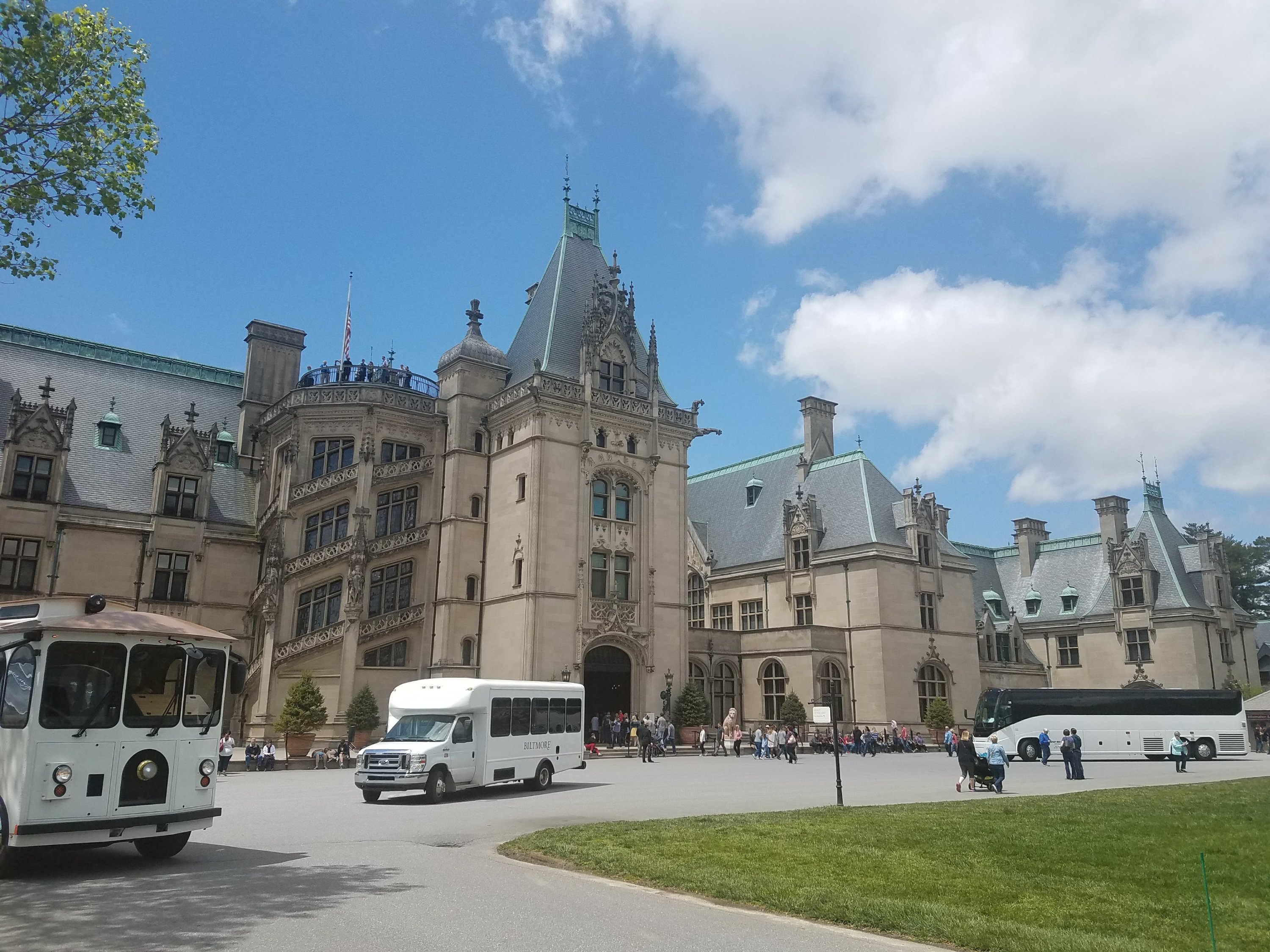 I don't know how the Vanderbilt's kept up with their young daughter in this huge home….I lose my kids daily in a damn one bedroom apartment! Make sure you visit the gardens as they are insanely ornate and gorgeous down to every little detail.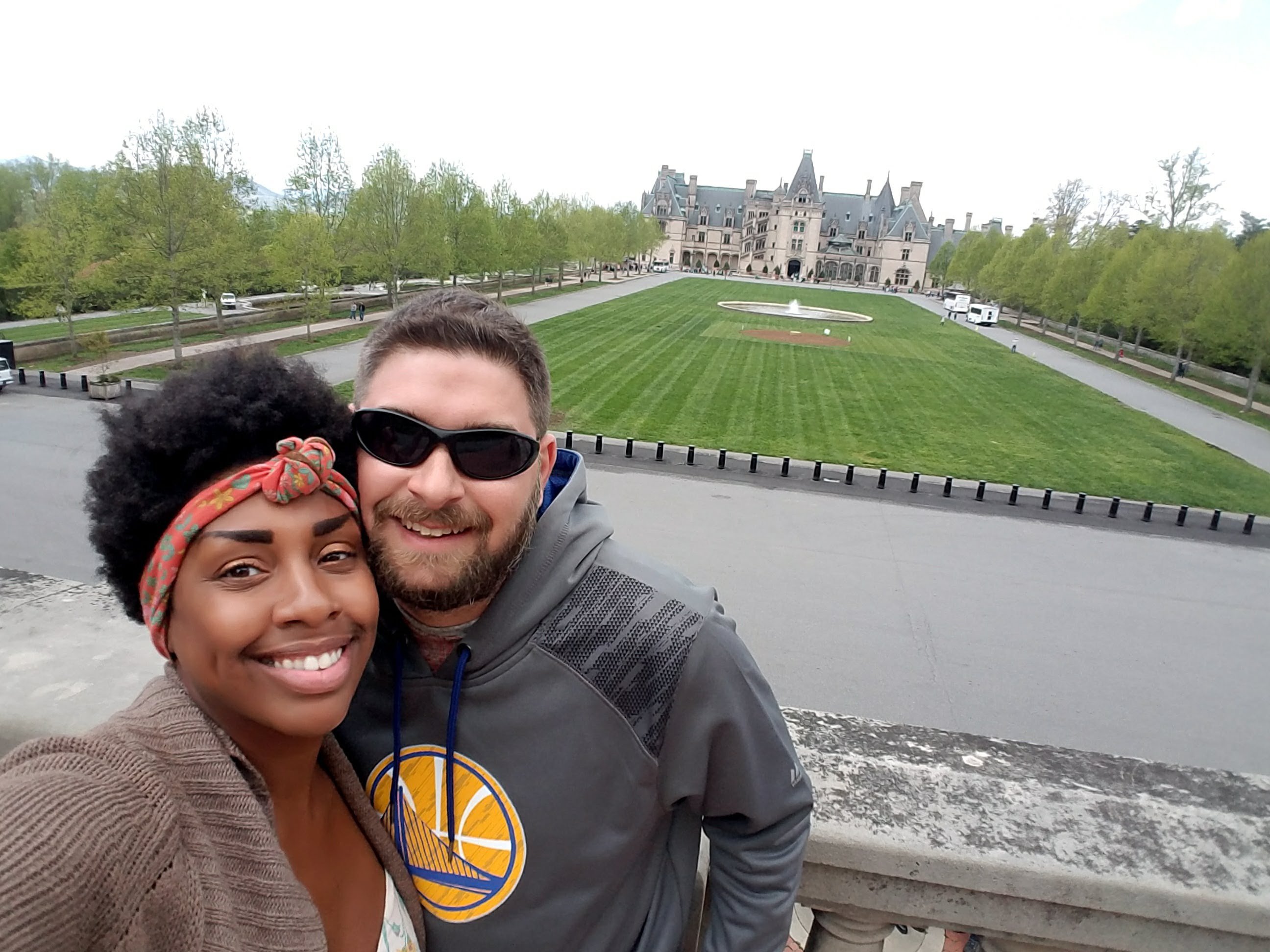 We got superrrr lucky and our visit fell on the day of a month long Titanic fashion exhibit. The beautifully stitched and ornately detailed costumes worn by Leonardo DiCaprio, Kate Winslet, Billy Zane and Kathy Bates were all on display to the public! WINNING!!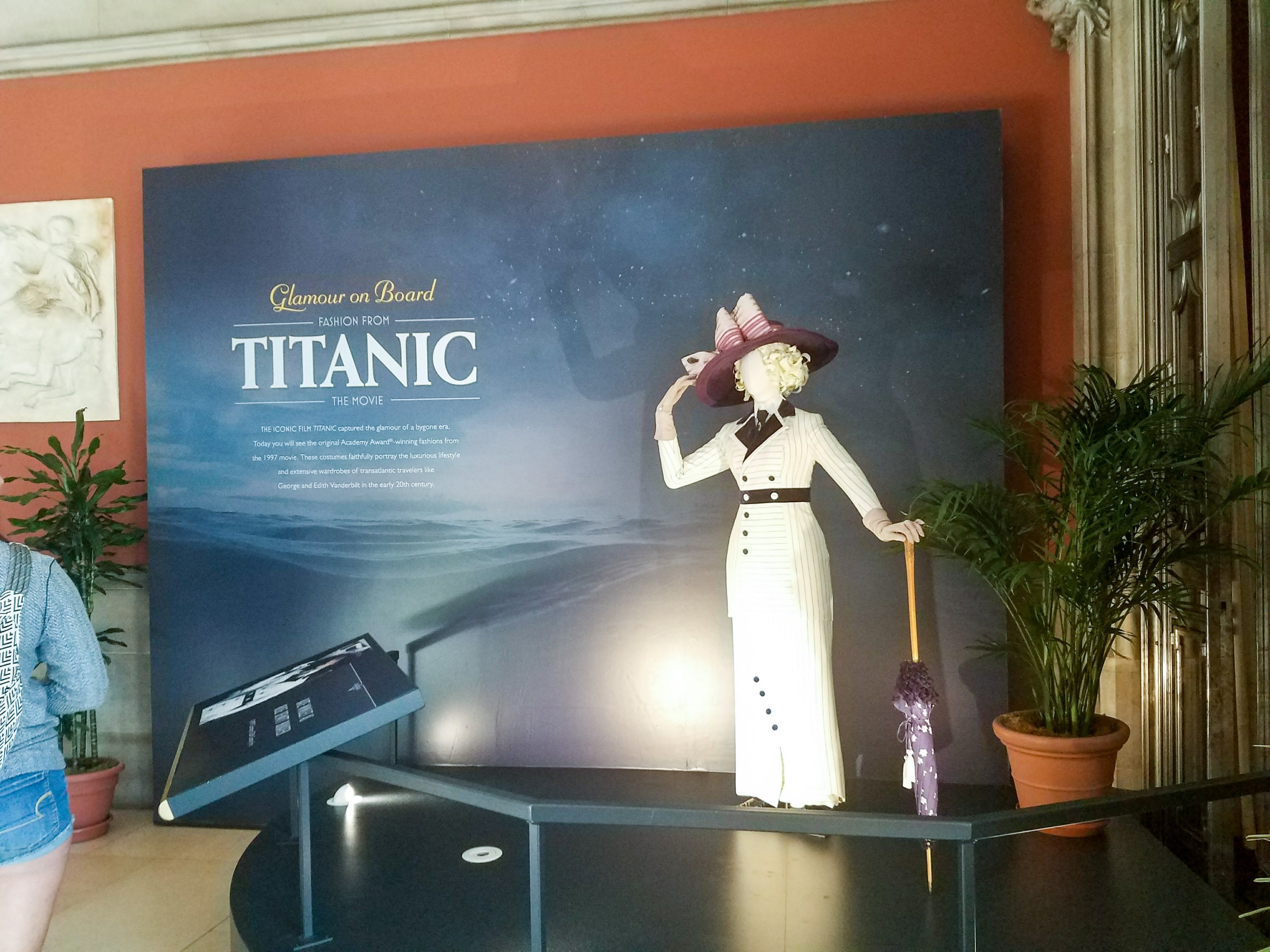 Costume worn by Kathy Bates!

The queen and all her glory!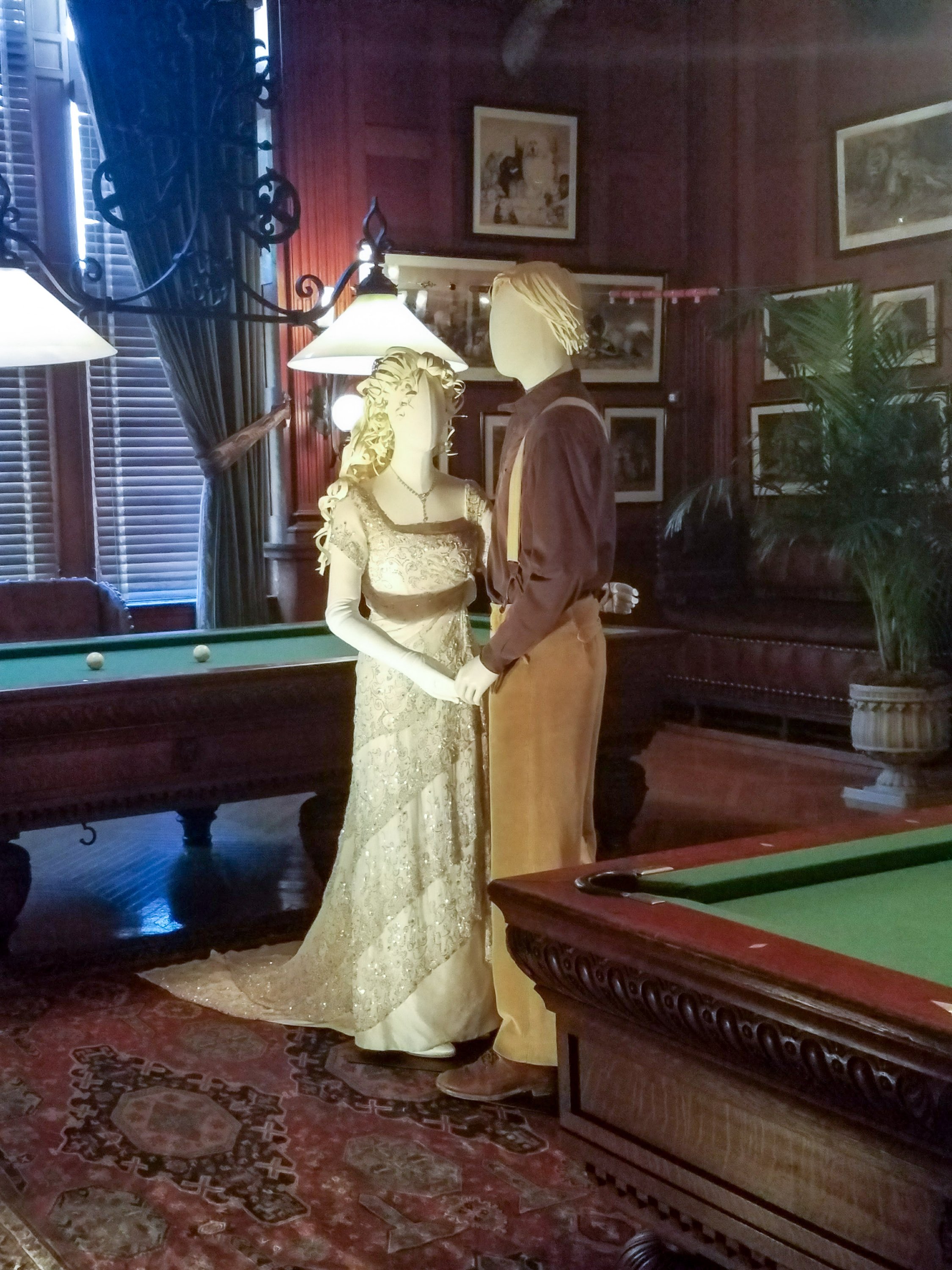 Billy Zane as the Villian in The Titantic…Lord I hated his character.

Costume worn by Billy Zane in the Titantic
The Biltmore is a palace of wonder and magic capable of transporting you to a Victorian era in the middle of the Blue Ridge Mountains.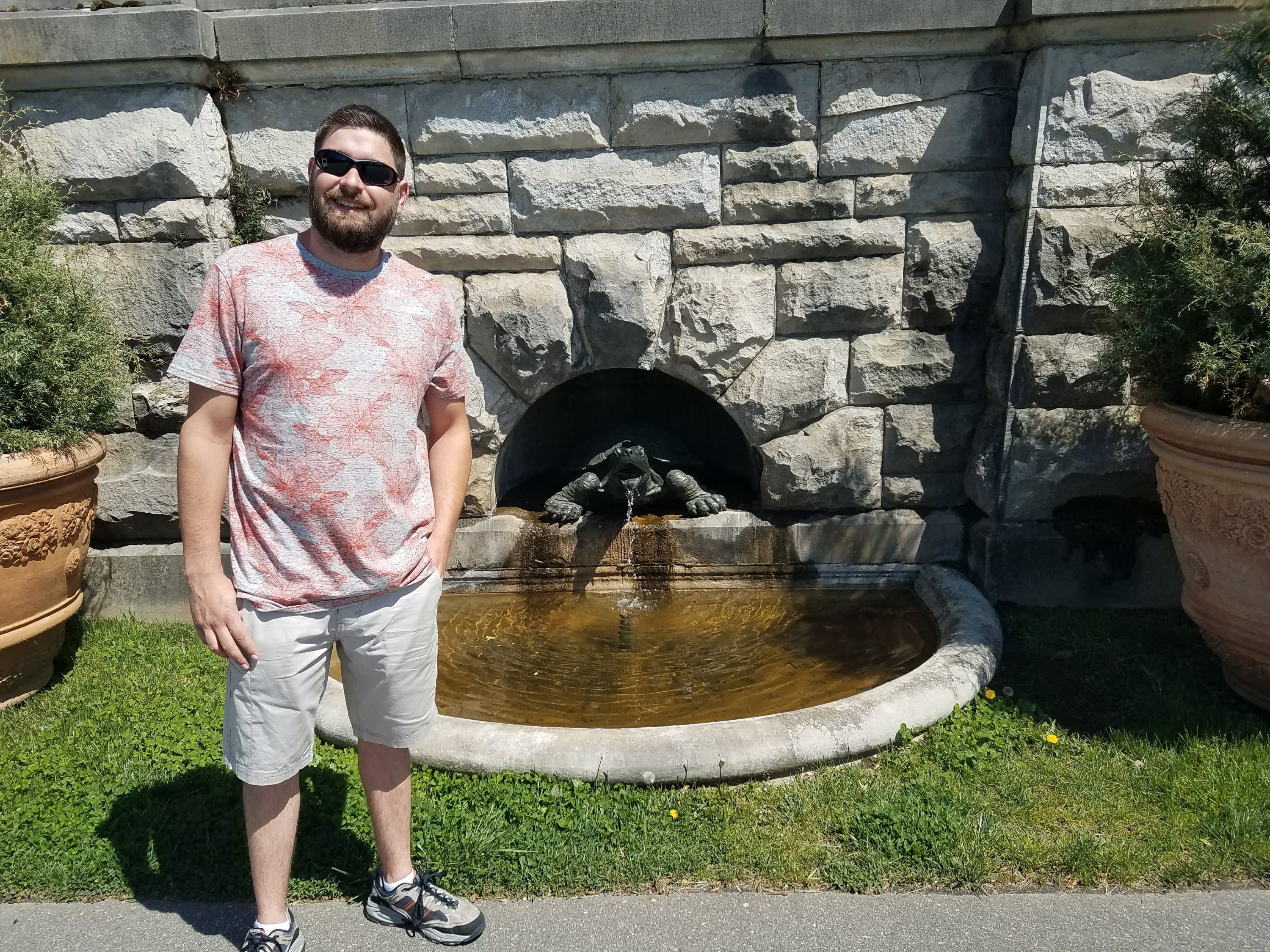 You didn't think I was going to forget food now, did you? Come on….ya know I got your back! Everyone knows that North Carolinian's are all about their barbecue, and Asheville is NO exception. After the Biltmore tour was concluded….I was HANGRY as all can be so 12 Bones was a must.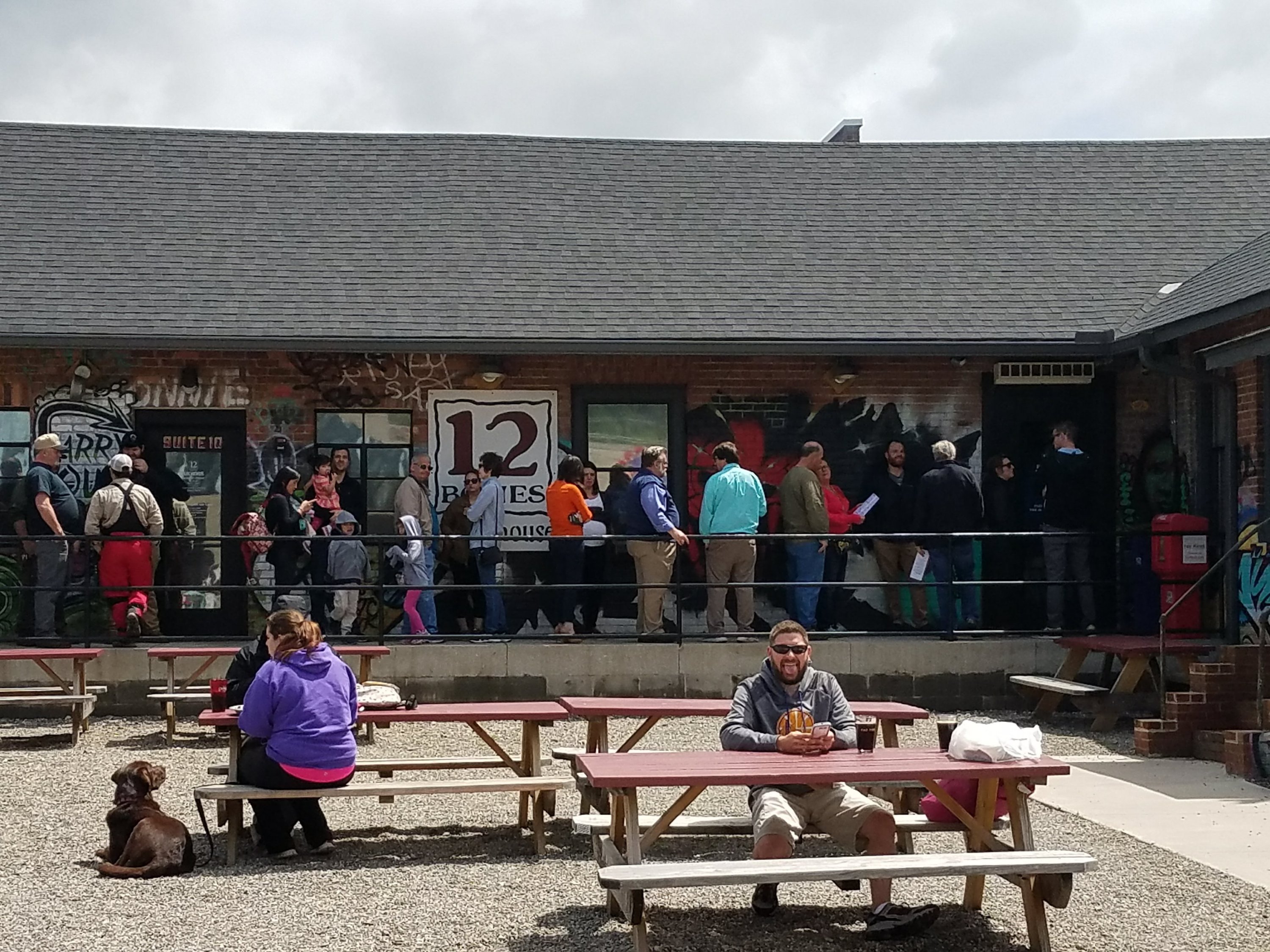 The River and Arden location are ONLY OPEN DURING LUNCH WITH NO RESERVATIONS so do not be late or show up on the weekend (You will be sorely disappointed as they are closed weekends at the River location and open only on Saturdays at the Arden location). First off, the Obama's visit here frequently and that was enough for me to enter and order….oh how I miss them.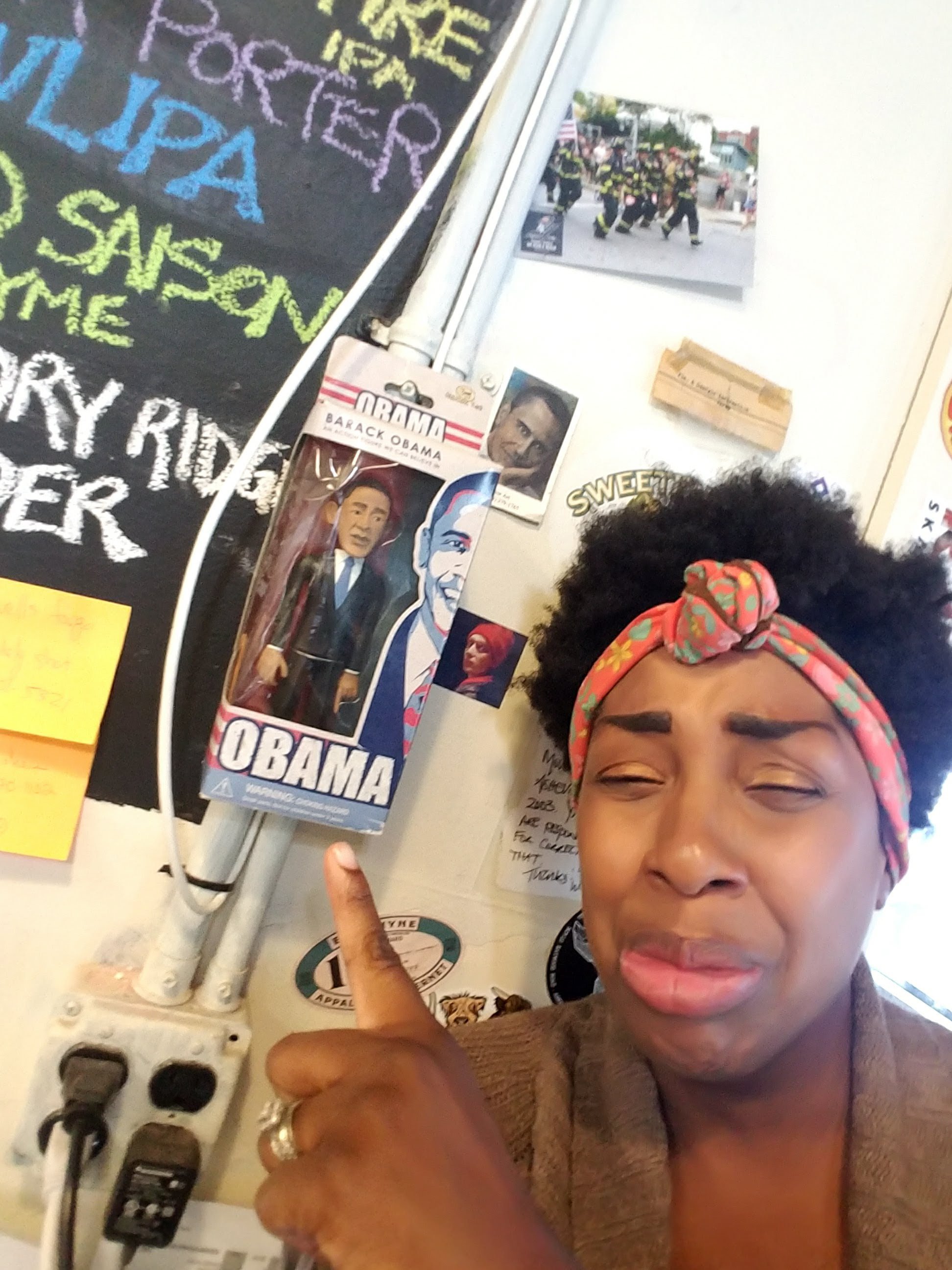 For $24 we ordered a full rack of baby back ribs, smoked potato salad and the jalapeno cheese grits.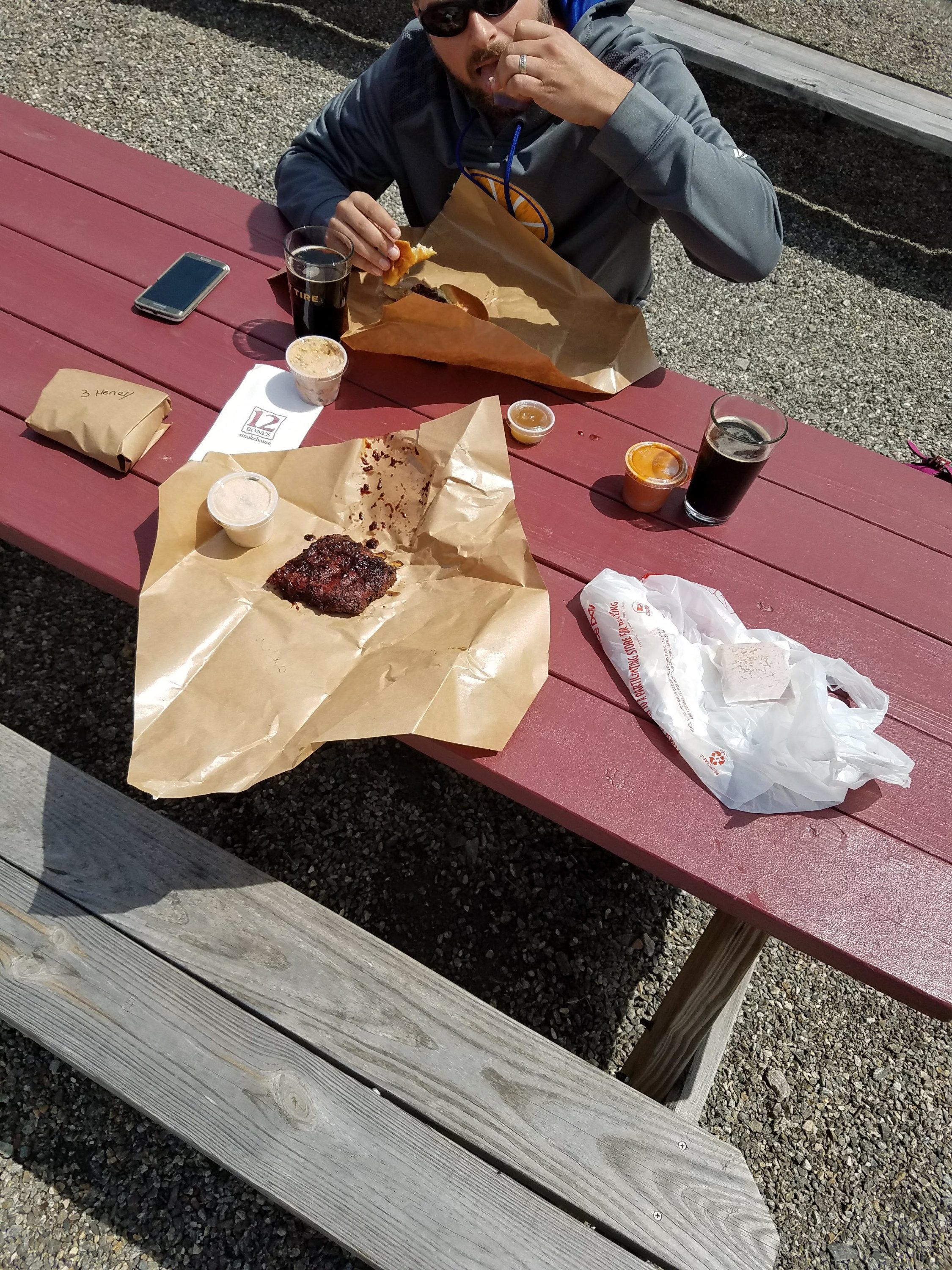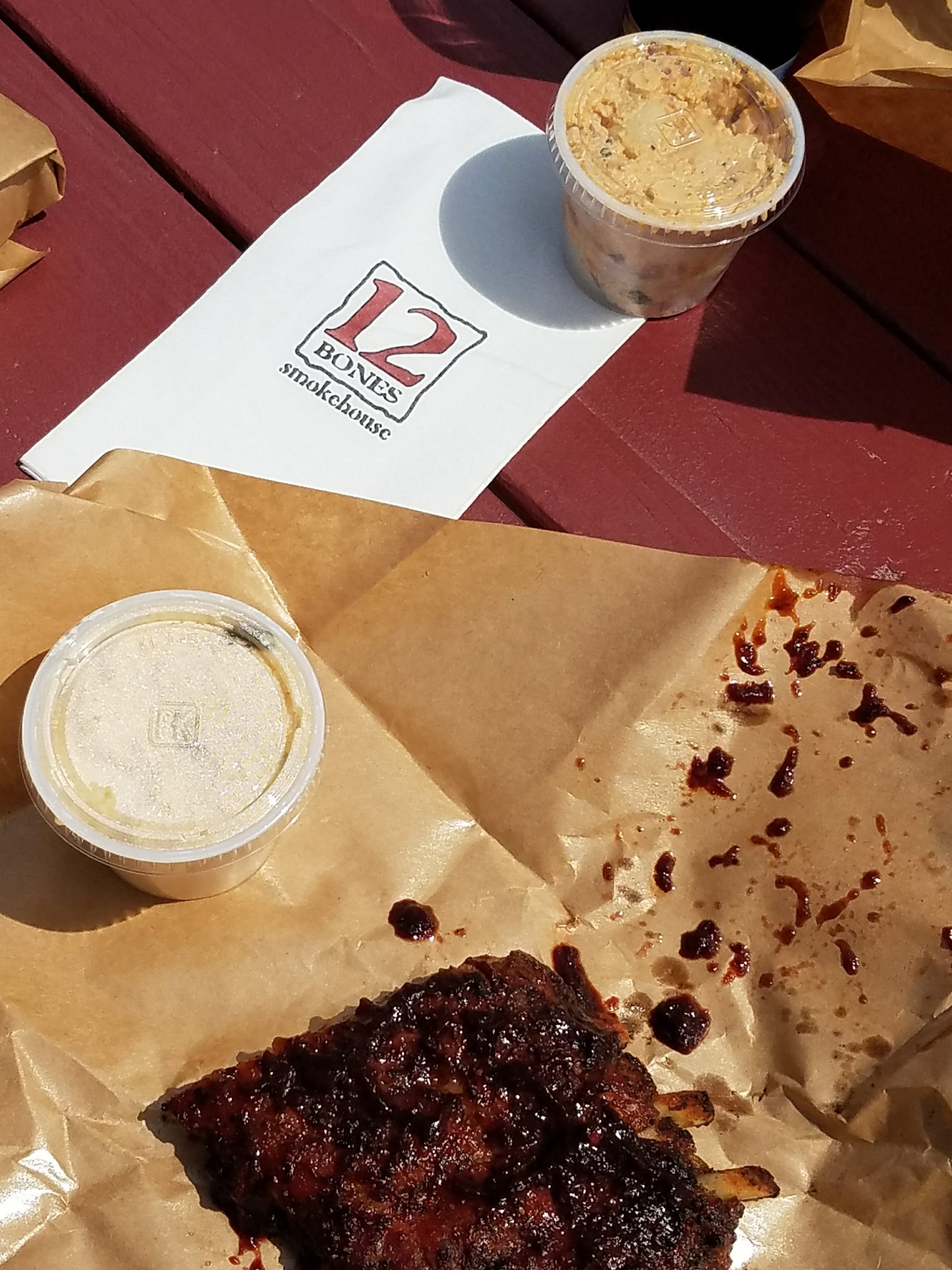 While you are waiting you can order their house brewed beer and enjoy the art outside across the street!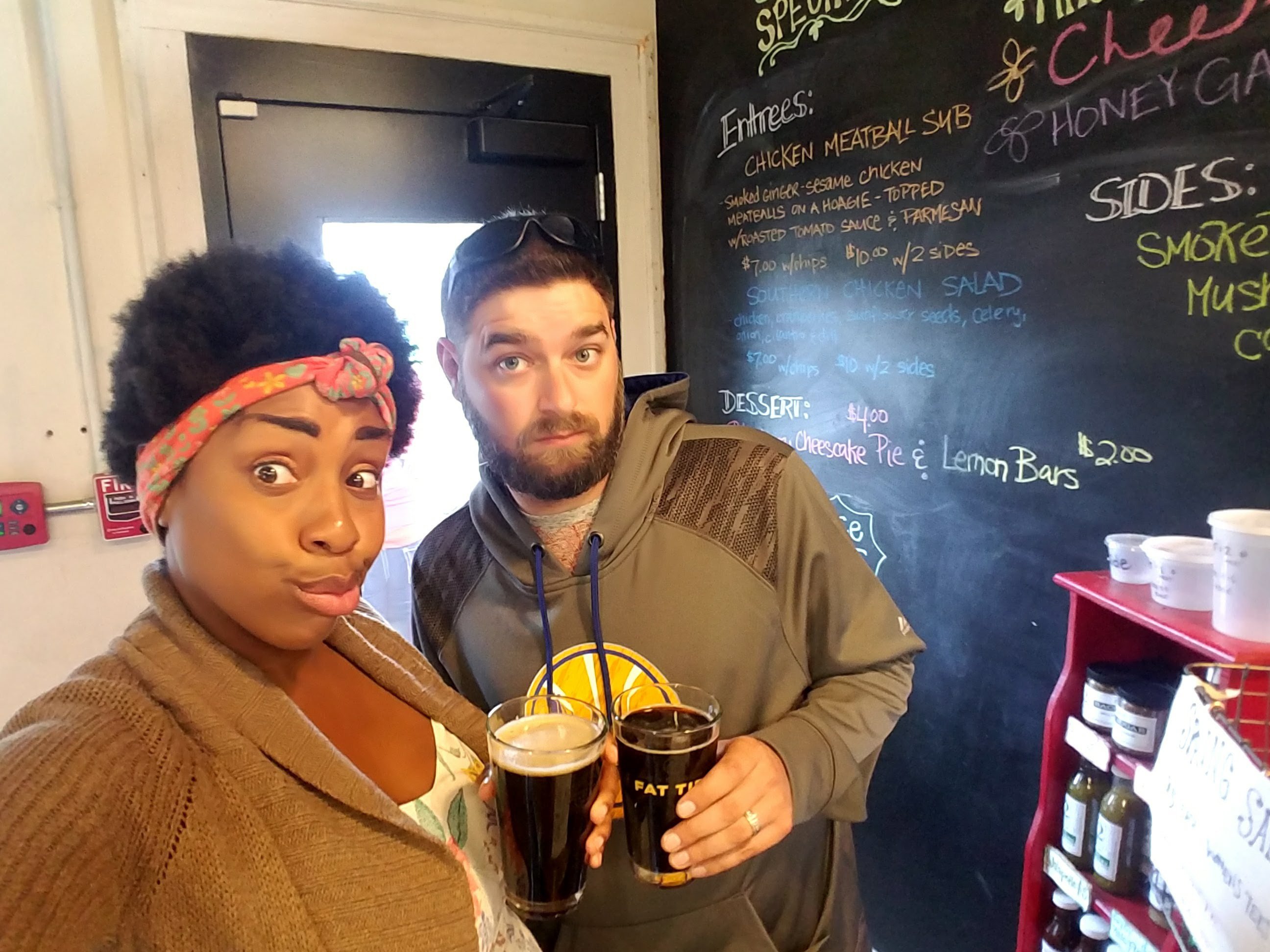 When my food arrived…..good GOD I thought I died and went to heaven. The ribs were fall apart tender, seasoned to peak perfection while slathered in their signature blueberry chipotle barbecue sauce. Jesus is real ya'll…..I still have dreams of swimming in a vat of the stuff. Please make sure you stop by 12 Bones and eat it ALL!!!
Hiking was on the list of things during our 2 day trip so Pisgah National Forest was calling our names after filling ourselves to the brim with barbecue. This gorgeous park has waterfalls and beautiful photo ops at every turn. Looking Glass Falls is an enormous waterfall that has drive up parking, making it super accessible to everyone so make sure to check it out!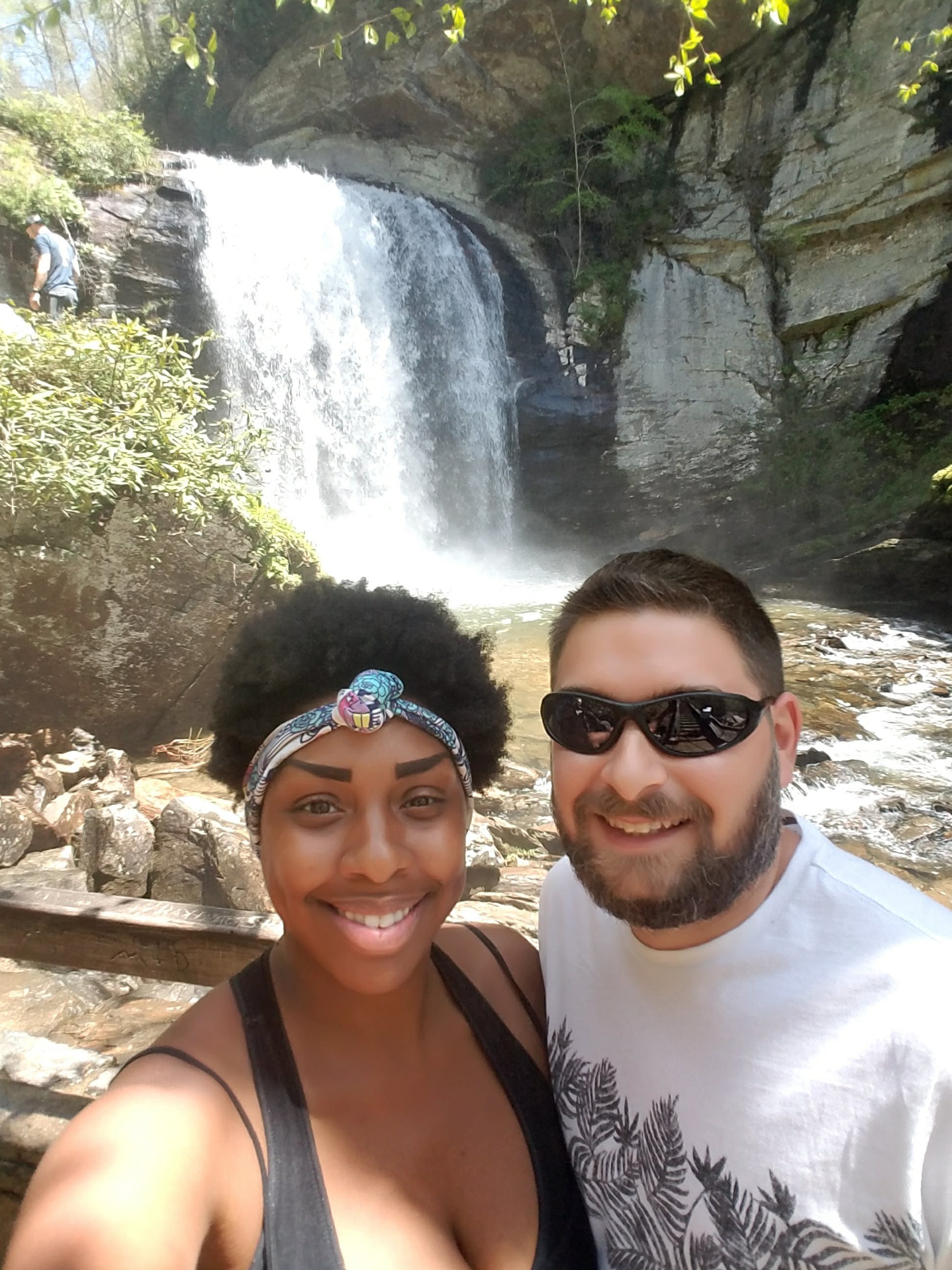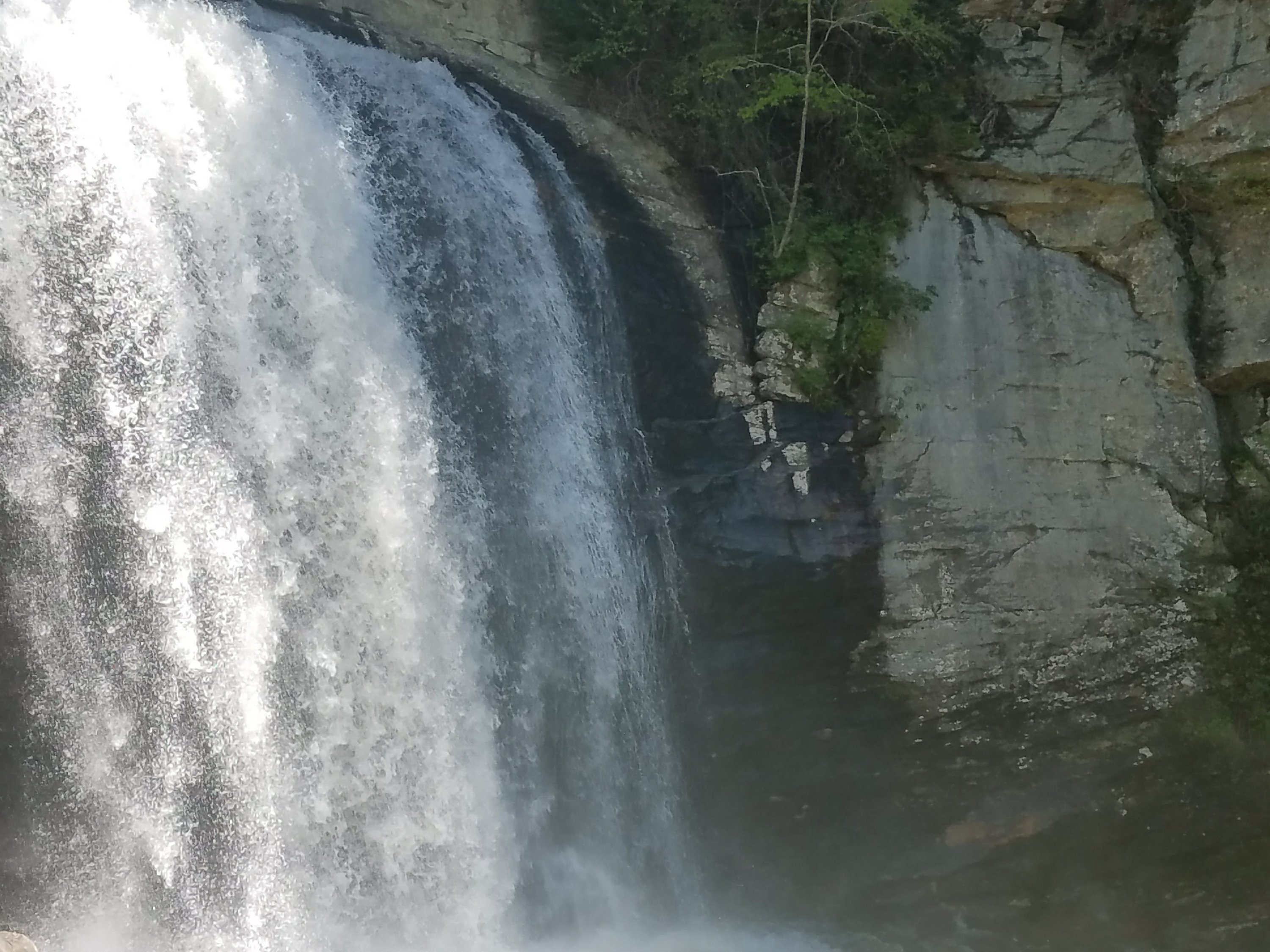 Within the park is a natural rock water slide with an 6-8 ft deep pool at the end that I had been DYING to try. Now listen….April weather in NC isn't quite warm enough but I said TO HELL with it….ya only live once, right? (The water is a bone chilling 50° forewarning!)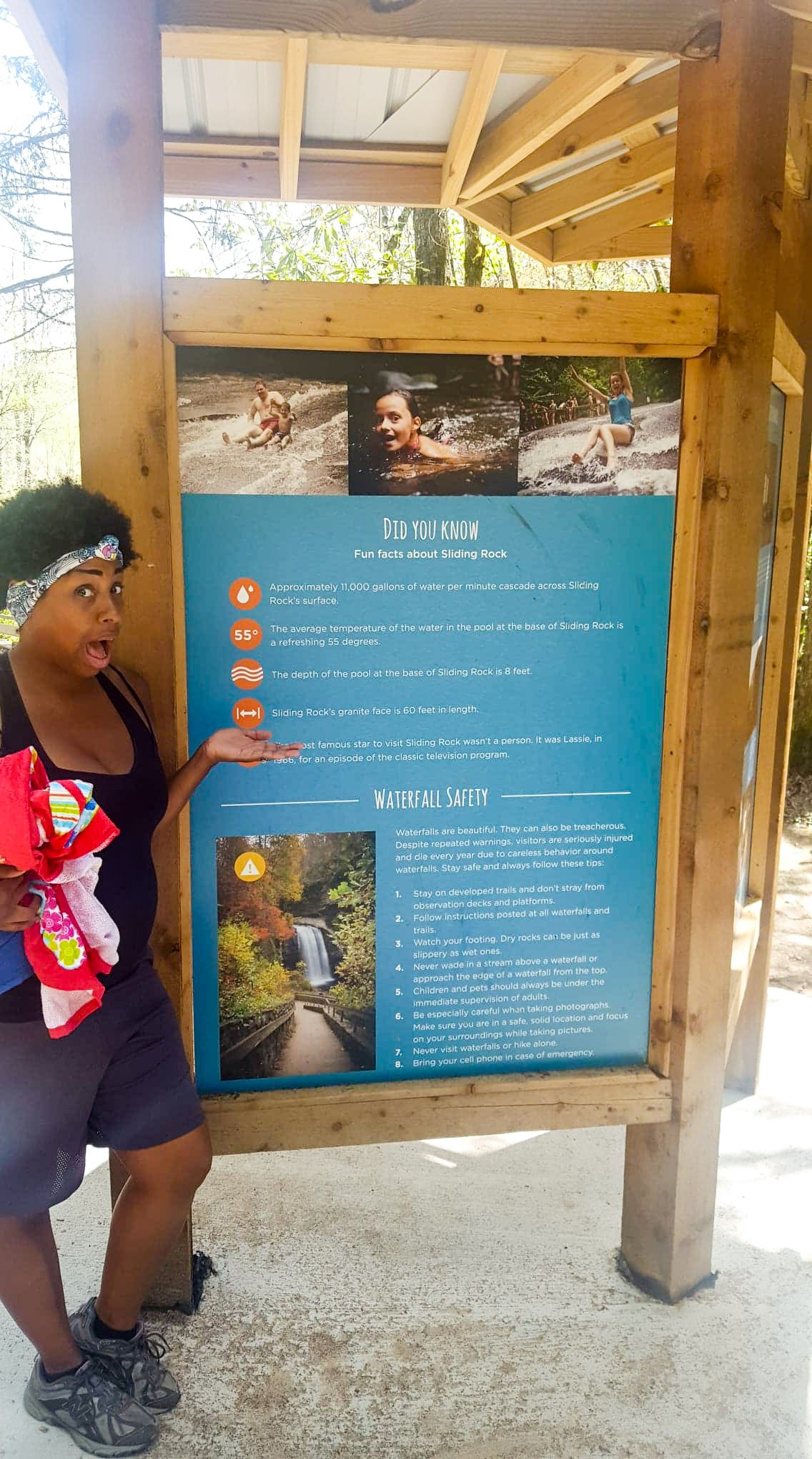 I sought courage deep down in my soul, climbed all the way to the top and said a big prayer to the guy upstairs. Sliding down into the mineral filled pool was the most exhilarating experience I have had in so long and I encourage you to give it a slide if you visit! You can watch me embarrass myself at my youtube channel here! If thrill seeking isn't your vice, find a creek to sit next to and be with nature for a while. I promise you will not regret it.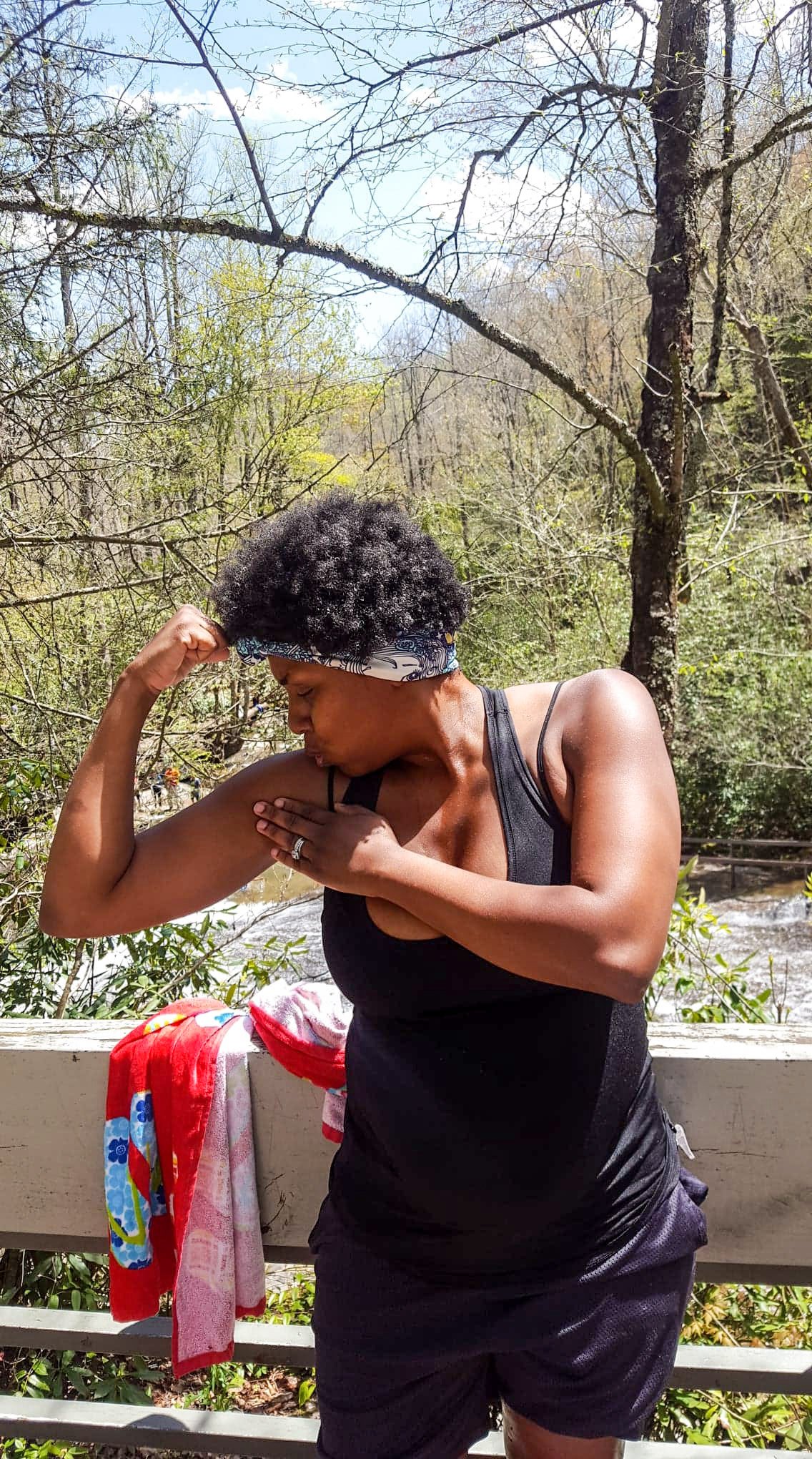 One of the most scenic routes in America sits in the in the Blue Ridge mountains with Instagram worthy stops at every winding turn.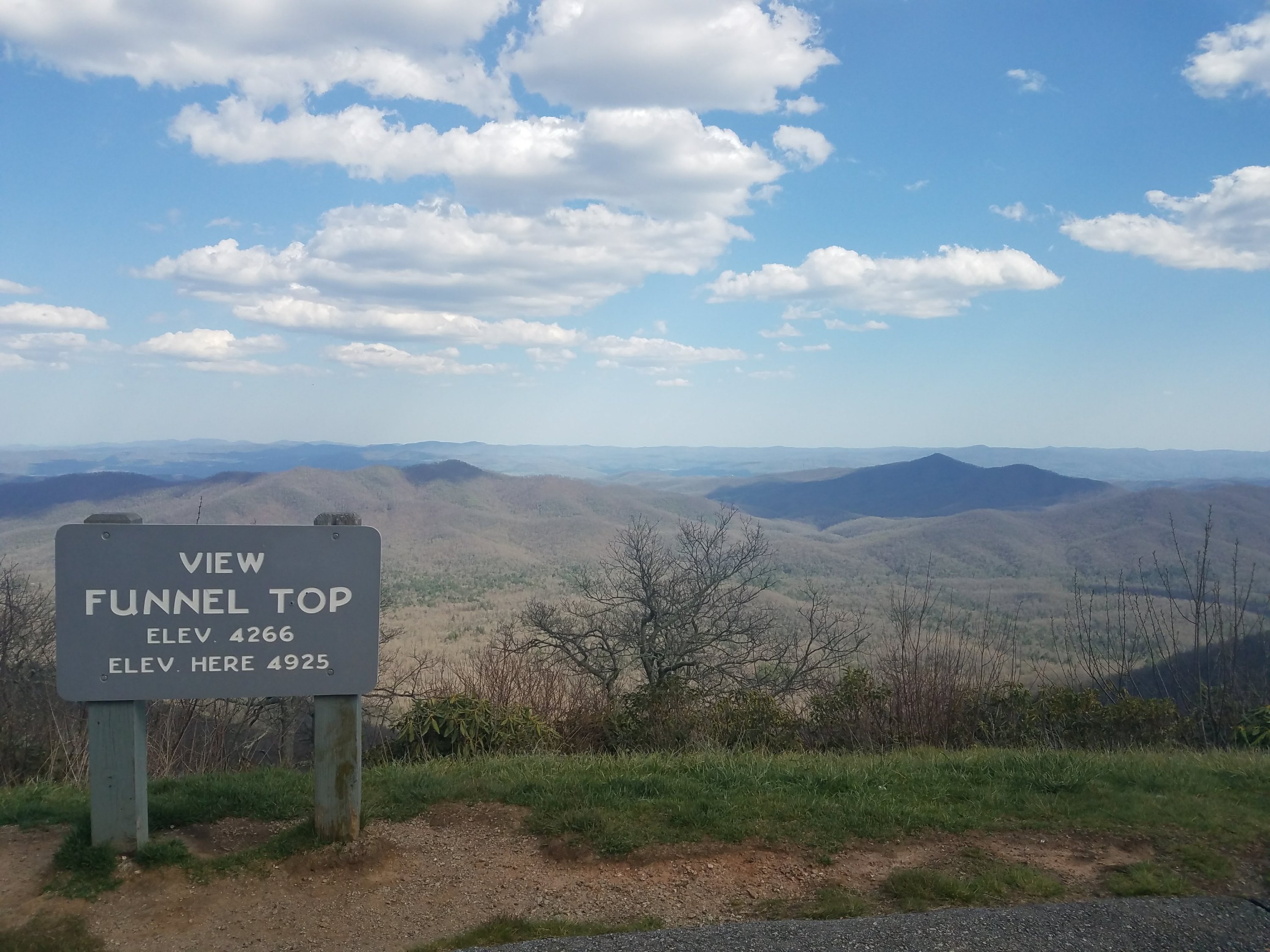 Filled with rushing creeks, overflowing waterfalls and quiet places to picnic makes it a truly serene ride through nature.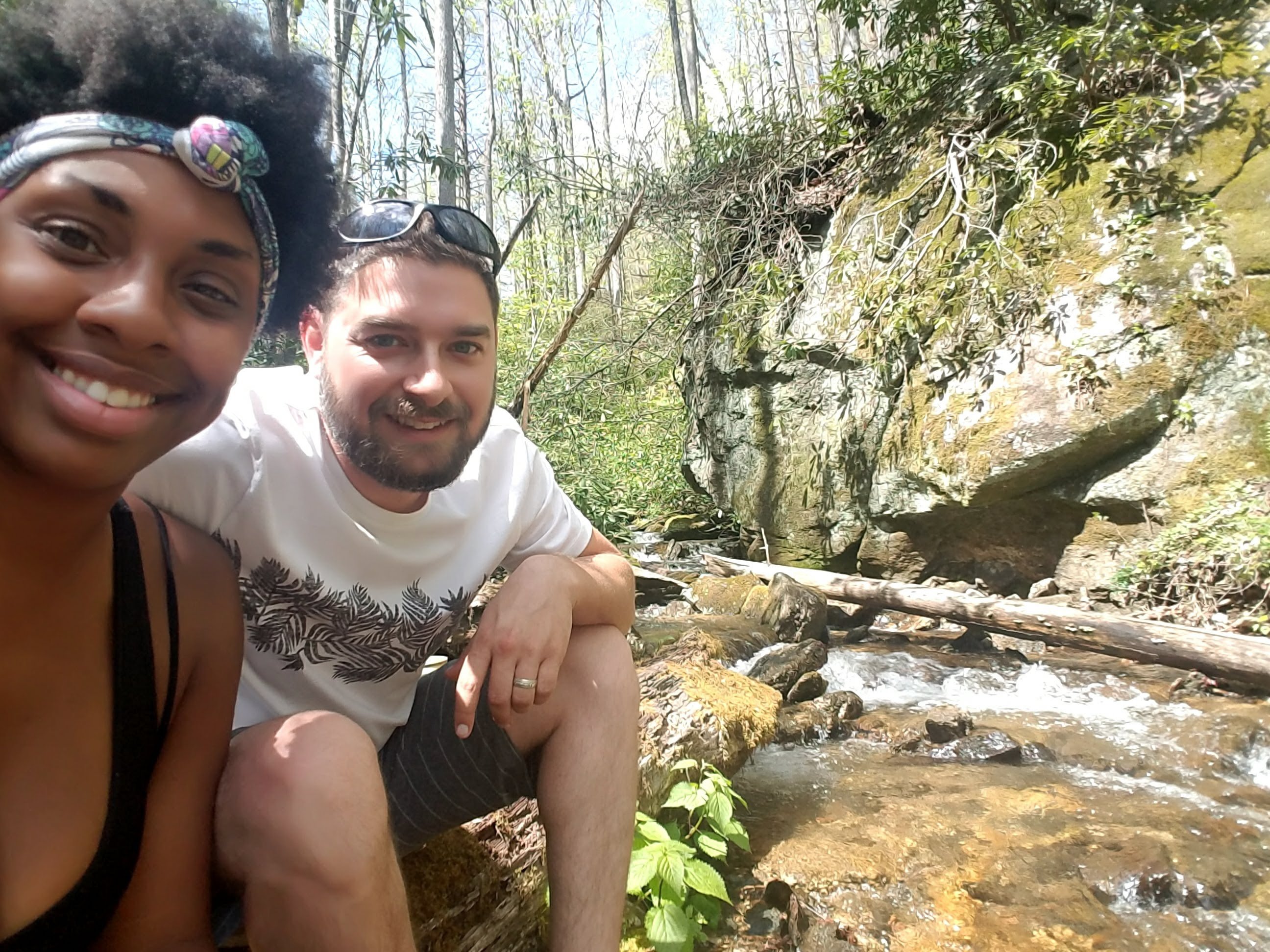 There are literally miles upon miles to explore as the peaks extend from Georgia to Pennsylvania.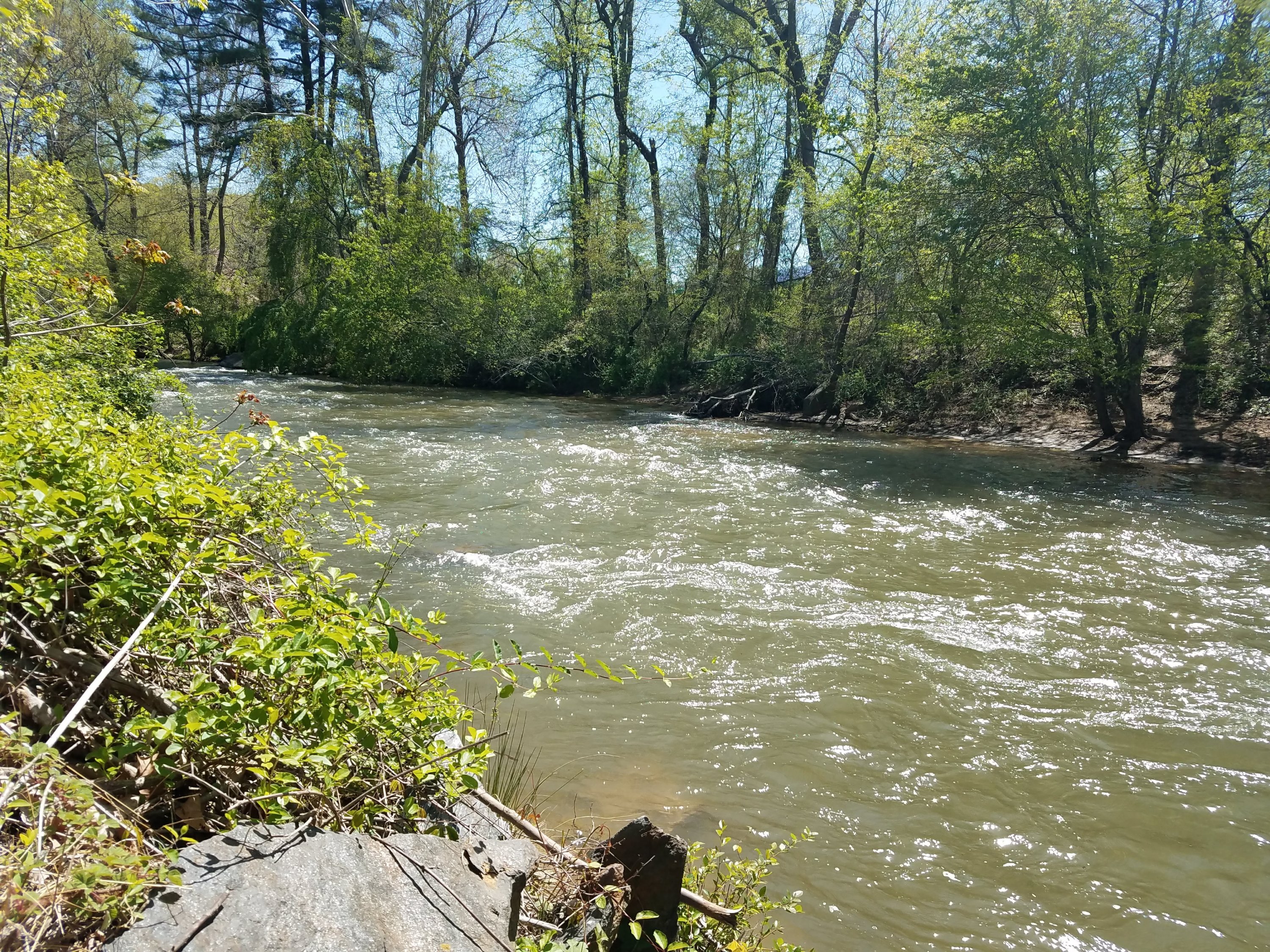 We did not spend as much time as we wanted to due to pure damn exhaustion but it was worth the hour we took to explore.
After a quick cat nap, we got dressed and headed back downtown to Pritchard Park for The Drum Circle. Every Friday night, hundreds of people gather to dance, partake with personal drums or just be in the aura of this spectacular event. Drummers usually arrive between 5 and 6, going on with breaks until about 10 p.m.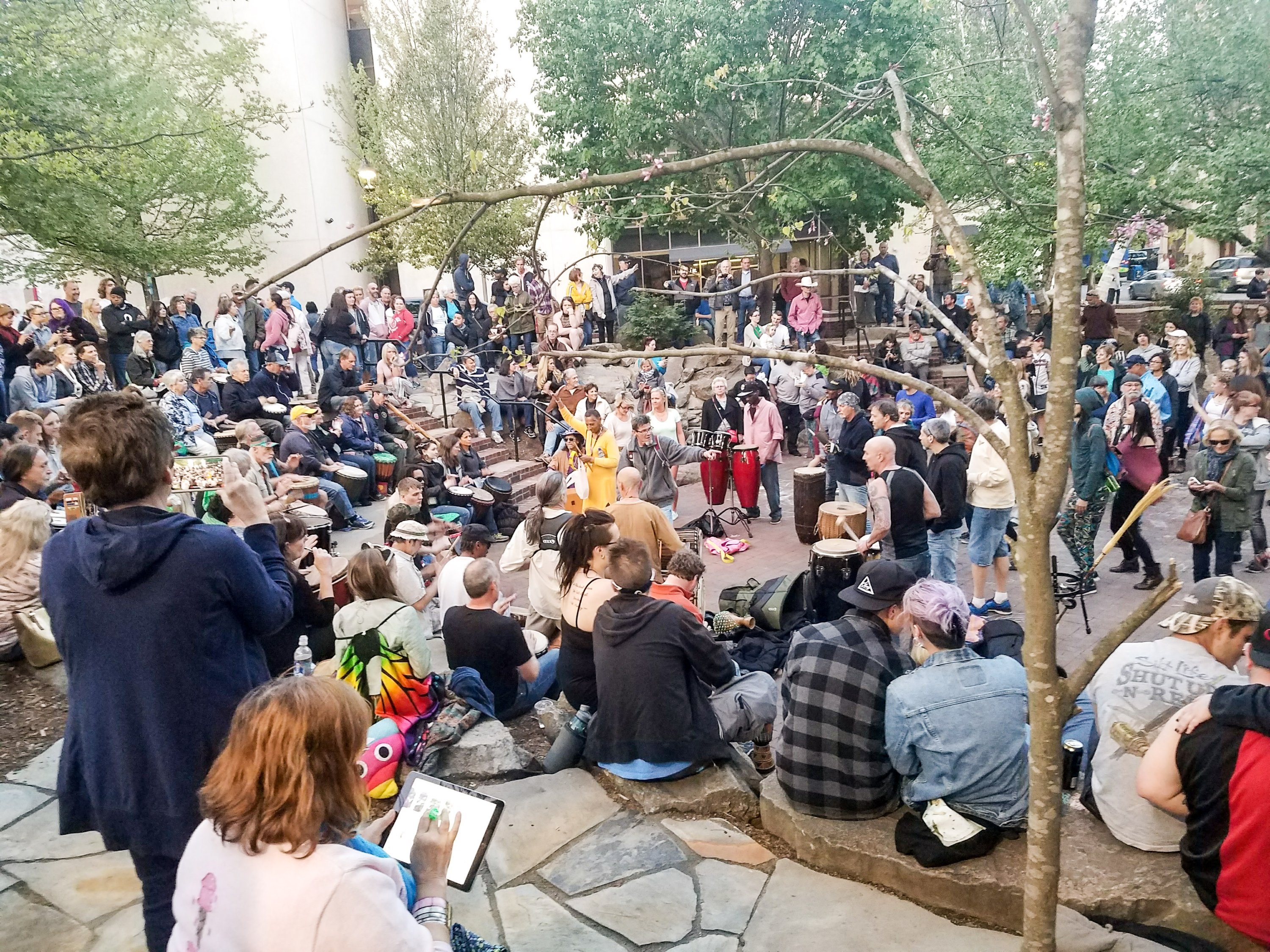 We arrived around 7 pm and the shenanigans were in full effect! People from all walks of life were out here: young, old, business suits, you name it. The folks of Asheville are a special breed…..an eclectic group of people whom make you feel like family the minute you say hello. The vibe was so harmonious, filled with love and laughter with every rhythmic bang of a drum. If you are traveling with children, take them here and watch them light up. It's free so….what do you really have to lose?
For the first baby free trip since my son was born over three years ago, a night out on the town was a must. We landed at Ben's Tune Up, a sake and beer brewery located in a converted auto shop with an asian fusion restaurant and beer garden…..say WHAT!?!? (There is also food until 2 am if you didn't get your fill during the day!). We arrived on Friday evening and ordered the sake flight of pineapple jalapeno, original and lemon ginger which were all amazeballs. We almost left but heard the DJ come over the loud speaker announcing that the night was about to get crazy. If there is someone spinning vinyl, you better stay and dance your ass OFF….which is exactly what I did.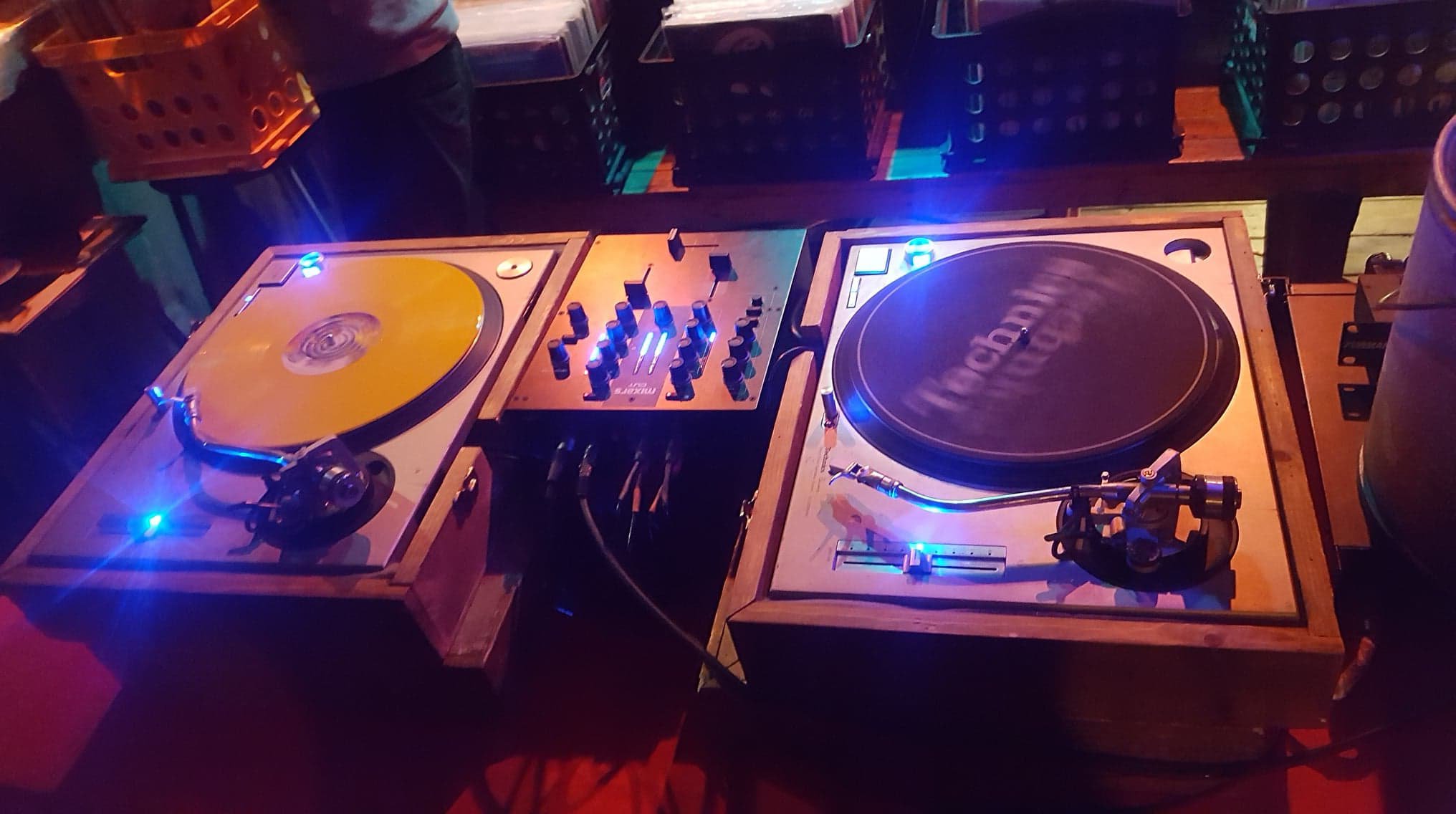 We boogied down to Michael Jackson, Queen and drank amazing draft beer until closing. I'm not gonna lie…this Mama was turnt up for the CAUSEEEE. Make this a stop on Friday night for sure…..the hangover in the morning is SOOOOO worth it!!!
The turn up at Ben's Tune up the night before got me good…..realllll good. We slept in for the first time in what seemed like ages, waking up around 11ish. By then we were parched as hell and starving for a big breakfast. Biscuit Head covered just that and some more for us. What can I say that probably hasn't already been said about this place…..it's just damn good. The fluffy & HUGE cat head (because they are the size of a cat's head….pun intended!) biscuits are mouthwatering to the last bite. I ordered the Mimosa Fried Chicken Biscuit (biscuit with chicken marinated in champagne and orange juice then fried, sweet potato butter, sriracha slaw, and a poached egg).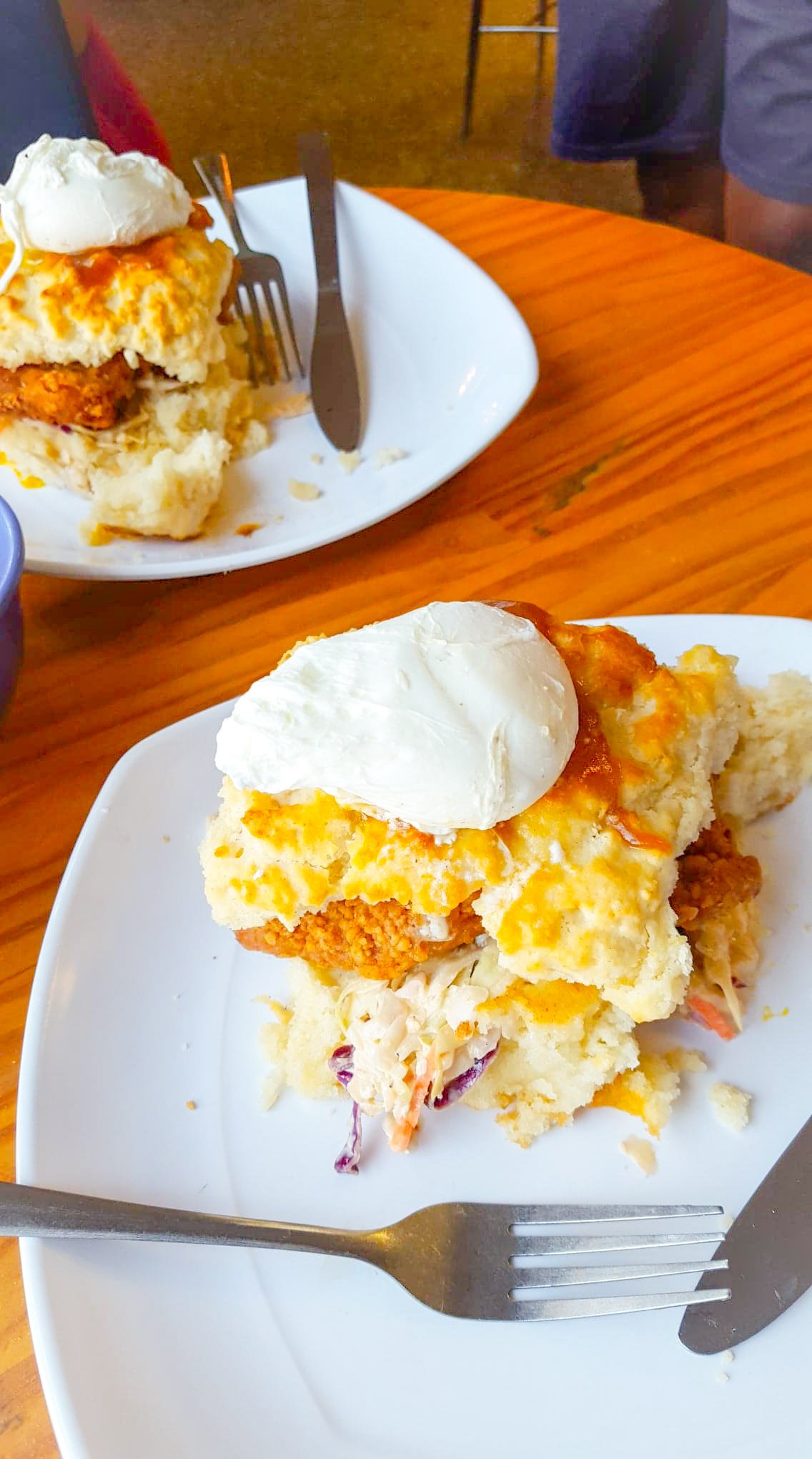 Sweet Mother of Pearl….it hit every note. Savory met sweet chicken….the crunch of the slaw with the jammy poached egg. Did I mention they have a ridiculous jam bar?
Oh yeahhh….I'm talking 'bout concoctions named sweet potato chai and peach rosemary….you feel me? Don't you dare pass this place up when visiting Asheville!
I like to think of myself as the quintessential Beer Queen and my palate has NEVER TOLD A LIE. Asheville is called the Portland, Oregon of NC with more breweries per capita than any U.S. city with roughly 100 local brewed beers up for the sipping. I know what beer I like and Thirsty Monk had me covered from pale ales to my favorite brew: dark and silky chocolate stouts.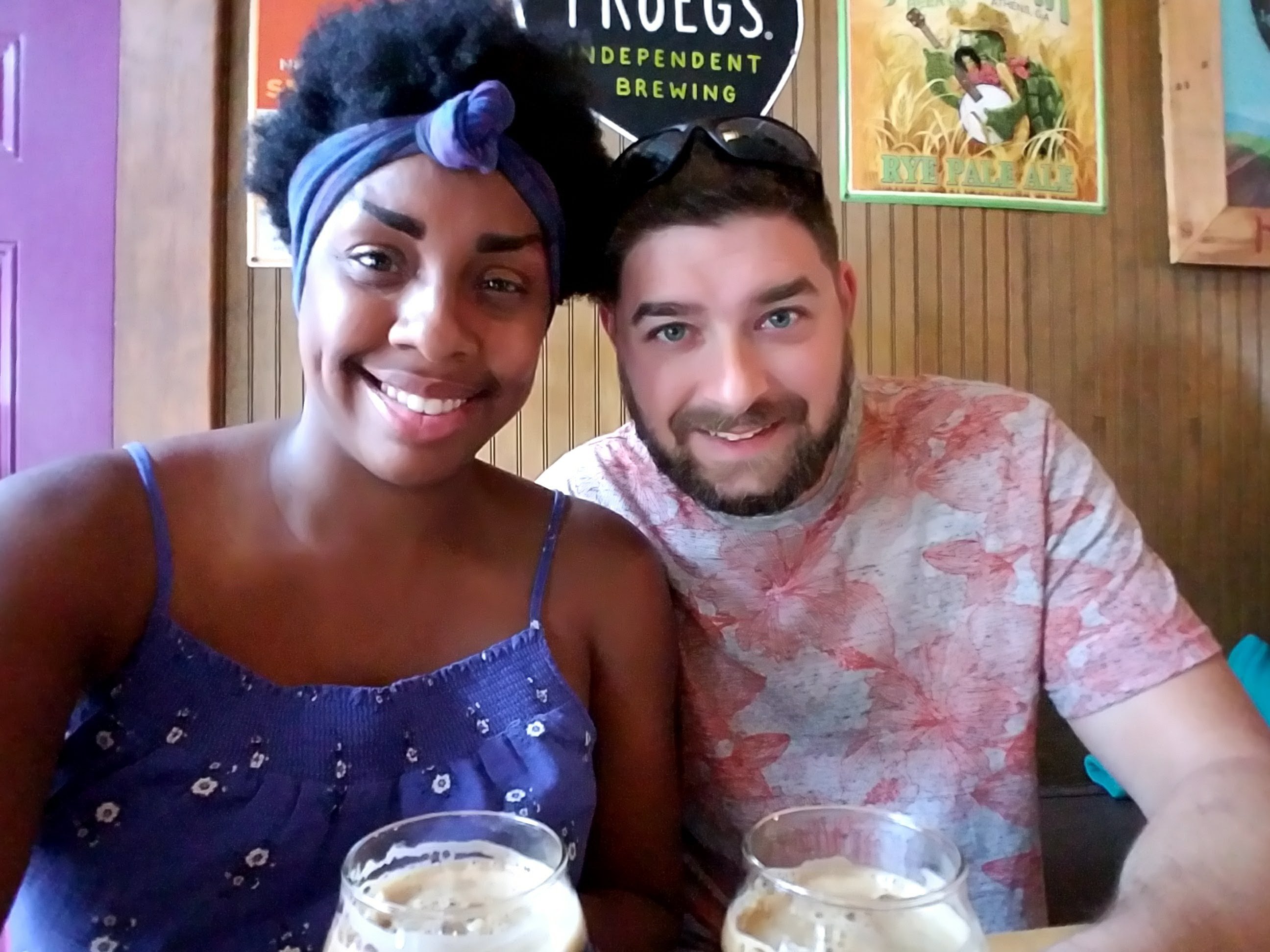 The pub style bar pays homage to Belgian-rooted modern ales while keeping their rotating list of brews fresh and up to date for even the biggest beer snob. The beers are pretty cheap too without skipping any quality whatsoever (the stout I ordered had an 8% ABV and cost only about $7). So grab an open table, order a flight of beers and relax…..you deserve it!
They say save the best for last, therefore Buxton Hall shall be the pièce de résistance of this article. I will be the first to admit that I am a full on foodie-obsessed- fanatic of this place. I have read pretty much every article about Elliott Moss and his whole hog – all wood cooking.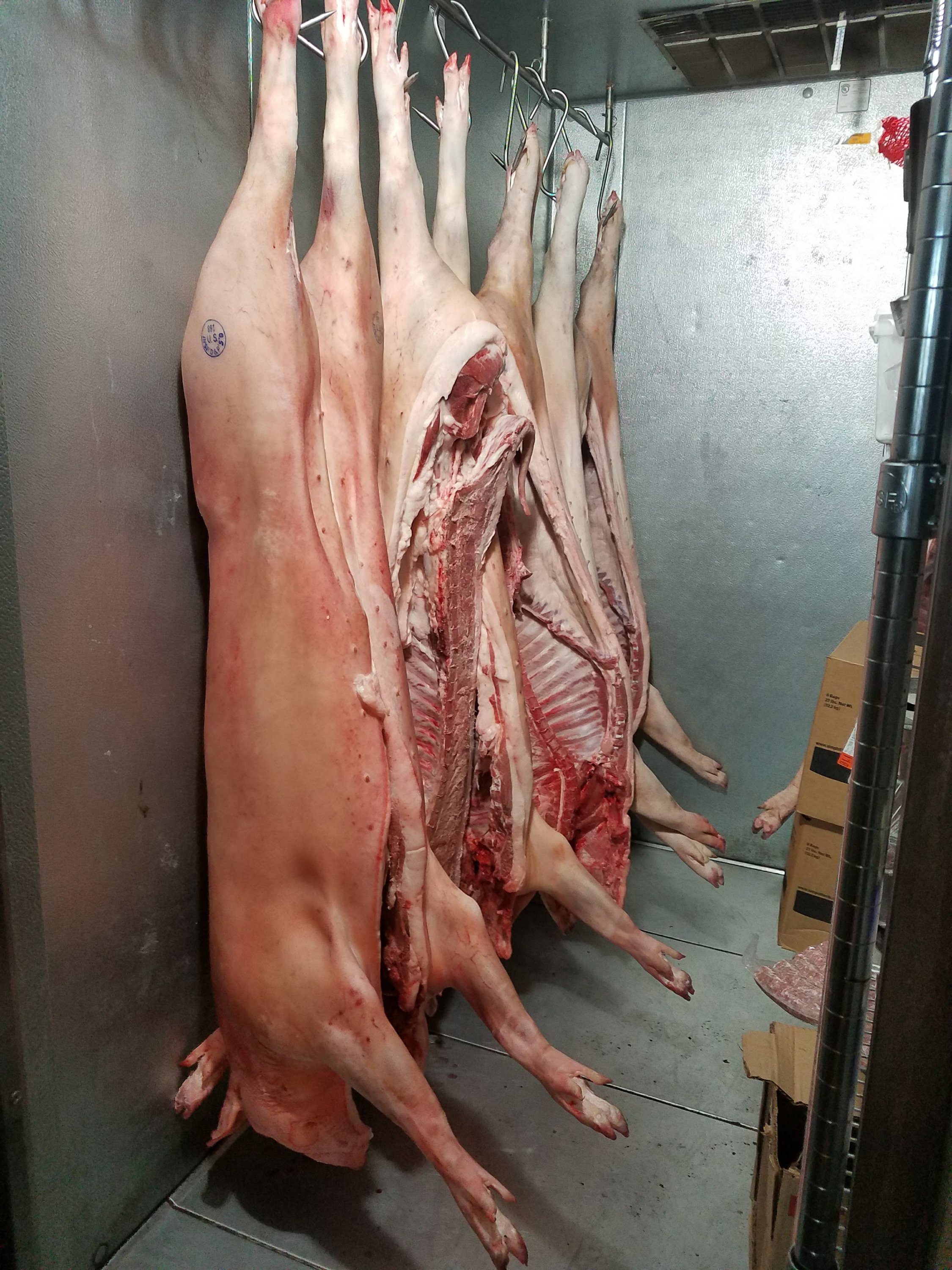 I've seen all the travel channel shows and was totally geeked out to visit and eat alll the damn food he had to offer. You can read here about all the awards & press that him & partner & (equally just as genius) Meherwan Irani (owner of Indian street food restaurant Chai Pani downtown) have acclaimed. Both gentlemen are James Beard award winners so yeah…..they know what the hell they're doing. I ordered the Whole Hog BBQ & Hash Plate, consisting of pulled pork, SC BBQ hash & rice, slaw, cornbread, pickles, with a choice of two sides. I chose the green beans (cooked underneath the pigs to catch alllll them fat drippings …..YES LORD) and the mashed potatoes with hog gravy.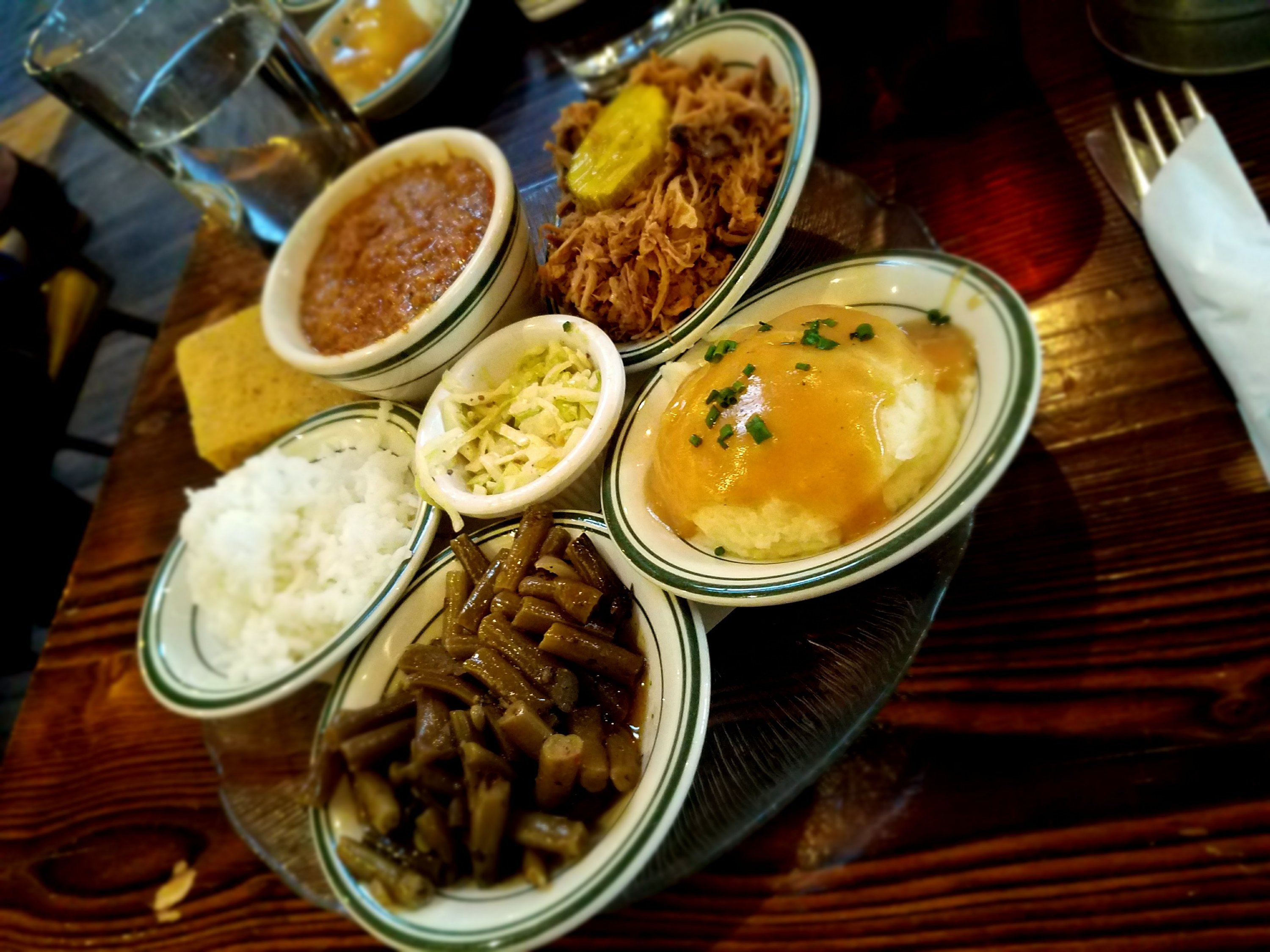 So you may be wondering what is BBQ hash because as a girl from NC I never had any in my life. They are a very sustainable restaurant, using all parts of the hog as to not waste, using even lard to make soap! All the innards usually thrown away (including the kidneys, hearts & liver of the pig) are simmered together all day to create a "hash" you serve over rice. I cannot fully explain the richness and complexity of this dish…you gotta just try it. And for the love of everything that is holy…..please get the spicy vinegar sauce. Eastern NC is known for a sweet and spicy vinegar sauce full of red pepper flakes for their barbecue. Hot damn man…..when someone does it right, I gotta give them all the props. It was just as good as my Grandmother's recipe, if not better.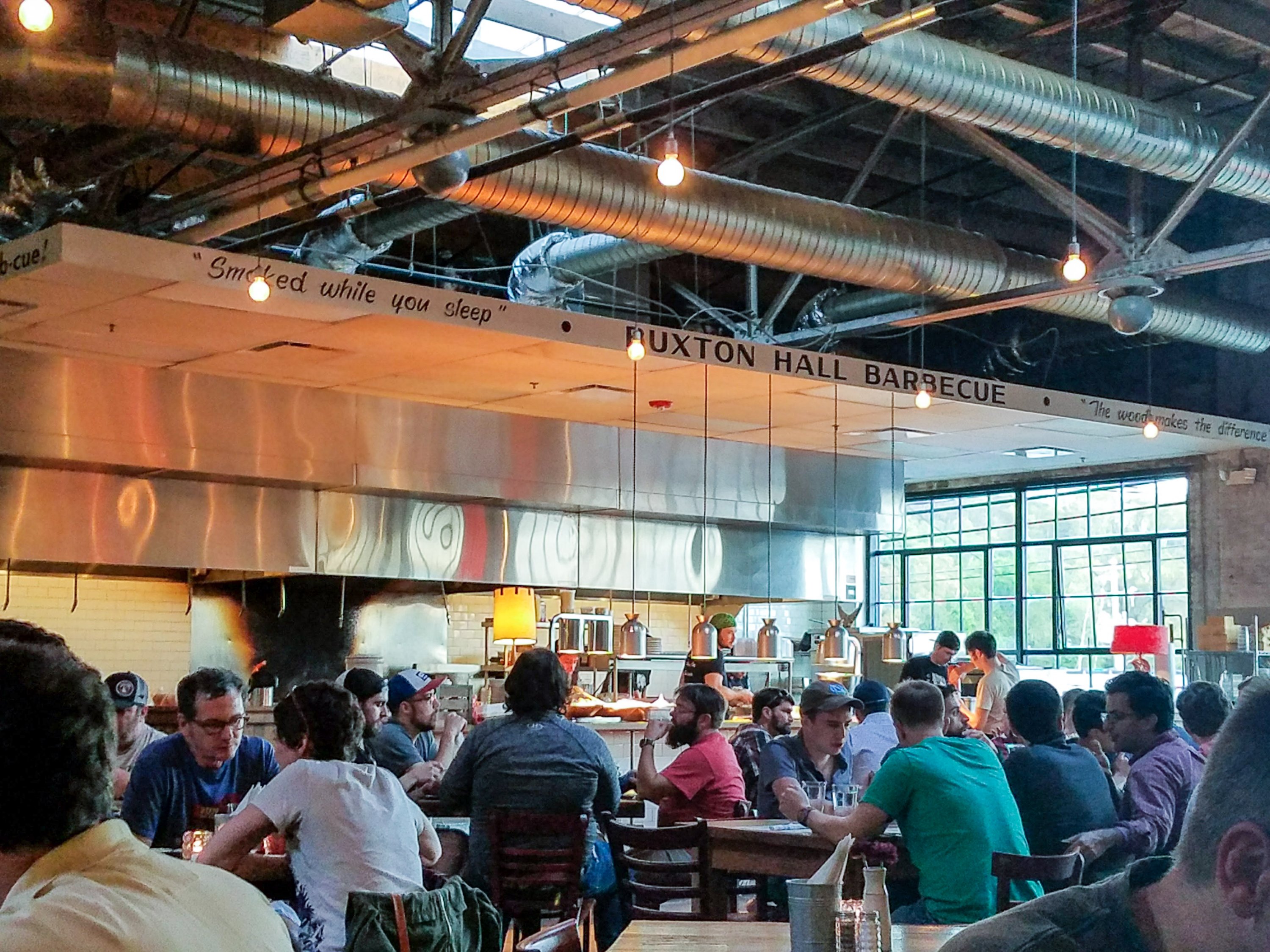 The management, my amazing server Toni and the entire ambiance of their restaurant made a lasting impression I am not soon to forget.
There's a reason that Asheville was named among the best places to visit in 2018 by Forbes and CNN. Something for everyone is here…..whether it be an amazing house brewed stout, authentic barbecue by well deserving chefs or just alone time with the whispers of the Blue Ridge Mountains. Come visit and explore Asheville. You'll be hard pressed to find a reason not to! As always, I hope you enjoyed this article and travel to this quaint mountain town soon!