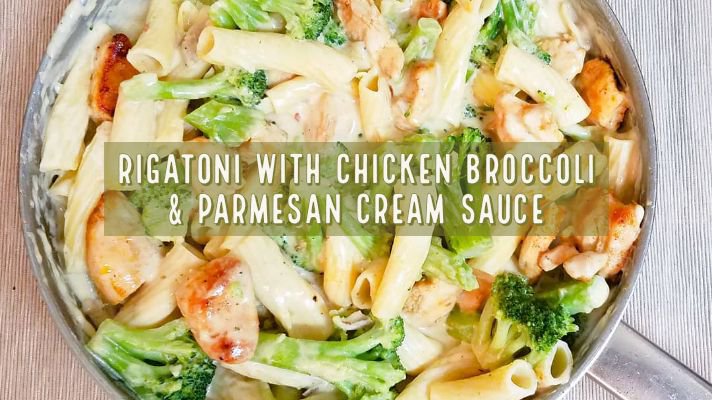 Cream sauces are so damn good. Add some cheese and I am ALL over it. This is my version of an alfredo sauce and is super easy to make! This will have dinner on the stove in about 30 minutes or less!! ?
Ingredients
2 chicken breasts, diced
1 cup of broccoli
1/2 box of Rigatoni
1/4 cup Parmesan cheese
1/2 tsp paprika
1/2 tsp garlic powder
1/2 tsp onion powder
1/4 tsp salt
1/4 diced red onion
2 garlic cloves
1/2 cup chicken broth
1/2 half and half
2 tbsp flour
4 tbsp oil
Directions
First you want to get a pot of water boiling, salted and ready for the rigatoni. Cook the pasta according to box instructions and drain when done. Grab another small pot and steam the cup of broccoli, dumping it in the colander with the pasta when tender and cooked!
Mix all the seasonings together and sprinkle it all over the diced chicken breast liberally. In a saucepan (coated with 2 tbsp of oil) over medium heat, cook the chicken in small batches until all cooked thoroughly. Remove the chicken to a plate and add a 1/2 cup of chicken broth and scrape all the goodies off the bottom! Once it has reduced a little, pour the liquid in to a measuring cup along with a 1/2 cup of half and half
Add about 2 tbsp of oil to the same pan and saute the red onion for 1 minute followed by the minced garlic for 30 seconds. Add 2 tbsp of flour and stir until a roux forms. At this point you can add in your half and half/chicken broth mixture and stir until it starts to bubble and thicken. Take the sauce off the heat and stir in your Parmesan cheese. Taste and add more salt is need me! Lastly, add in the chicken, pasta and broccoli. You can now DIG IN AND ENJOY!!! Leave a comment or any questions you may have!