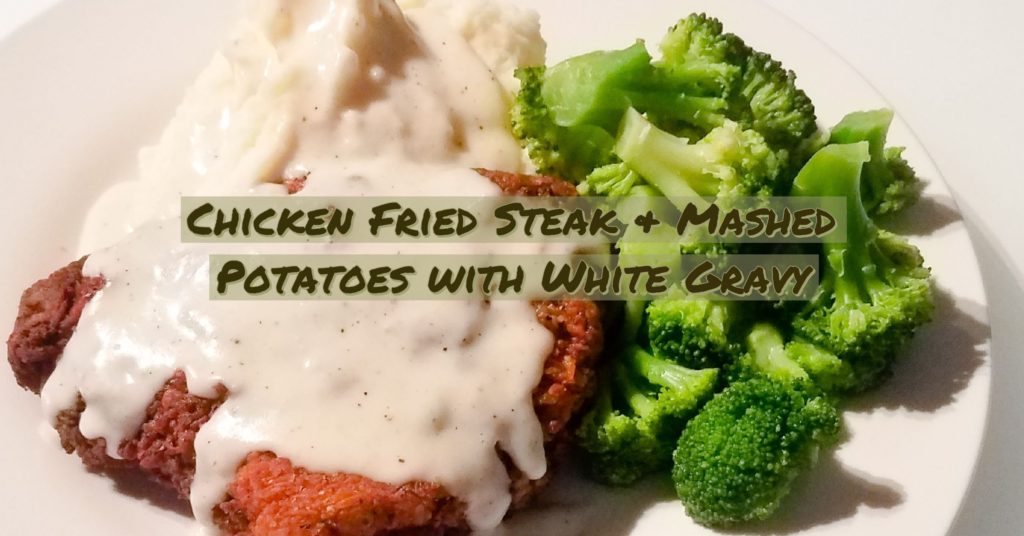 I might not live in the country anymore, but my stomachs heart will always live in North Carolina where soul food thrives. I am sorry to all my health conscious friends for what I am about to say, but lets be honest. Anything fried is damn delicious. Chicken Fried Steak is no exception and with most ingredients we have at home, you can have a home cooked meal in under 40 minutes! All the ingredients are listed at the bottom for you to prepare first!
Kitchen Aid Mashed Potatoes
First and foremost, peel all your potatoes and rinse well under a colander. Chop the potatoes into small cubes, trying to keep them all uniform in size so they all cook at the same time. While you are doing so, make sure you put on a large pot of water to a boil. When it comes to a boil, dump your potatoes and boil until fork tender, about 20 minutes or so.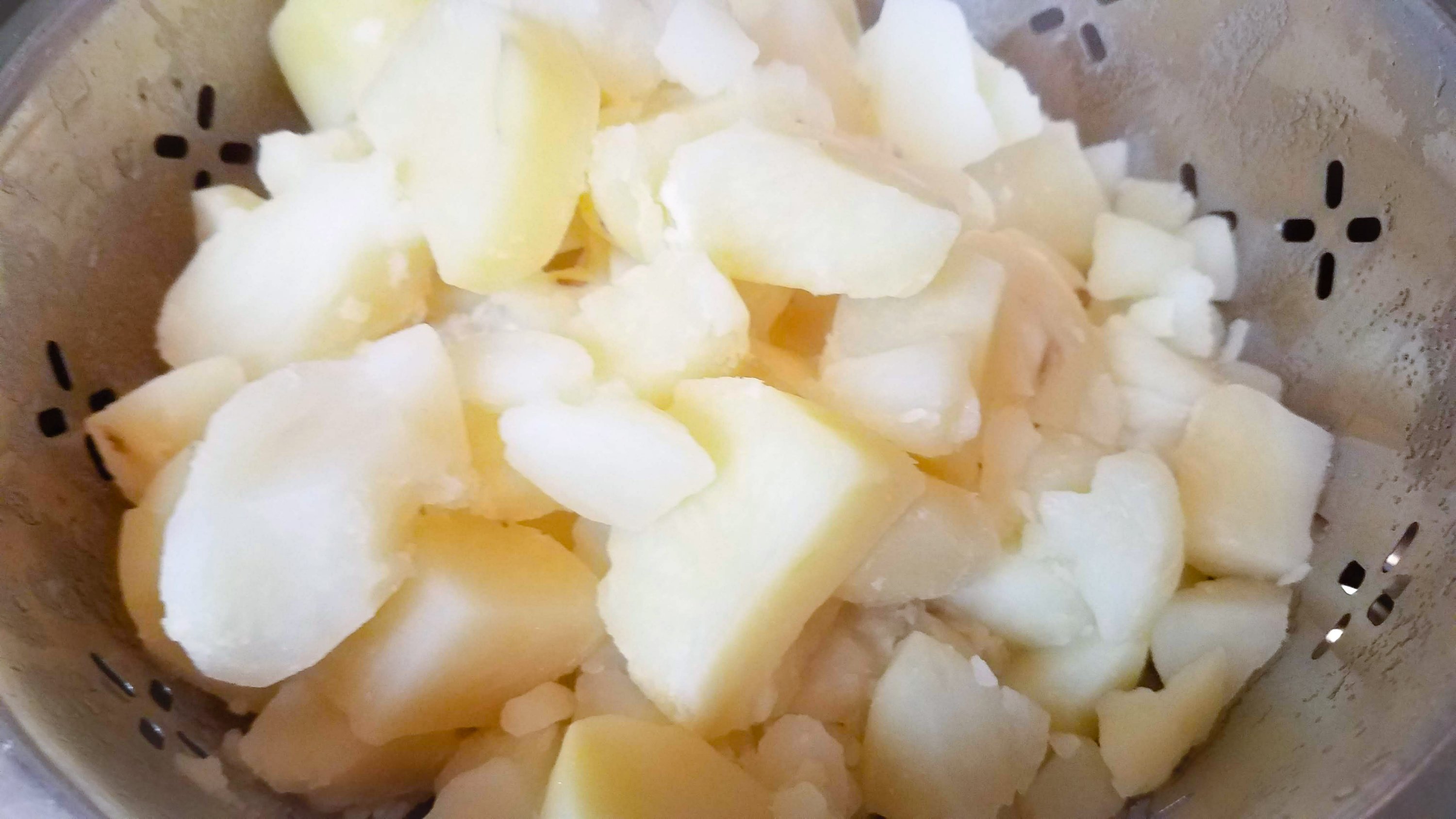 This is where the easy part and MAGIC comes to play. I swear by using my kitchen aid mixer and whisk attachment for the BEST mashed potatoes. Take the boiled potatoes and put them in the mixer. Melt half a butter first and then add the cream to warm up.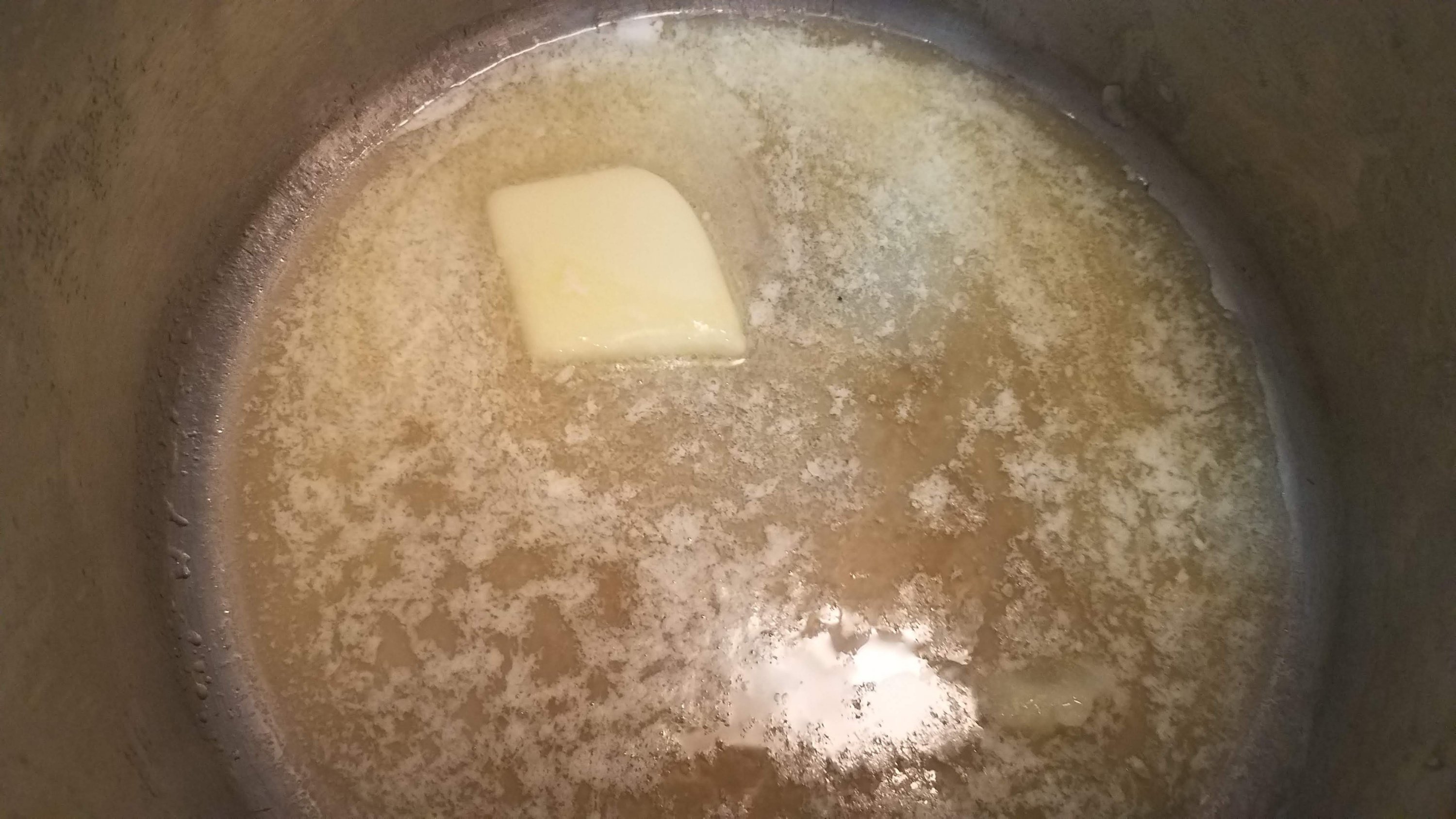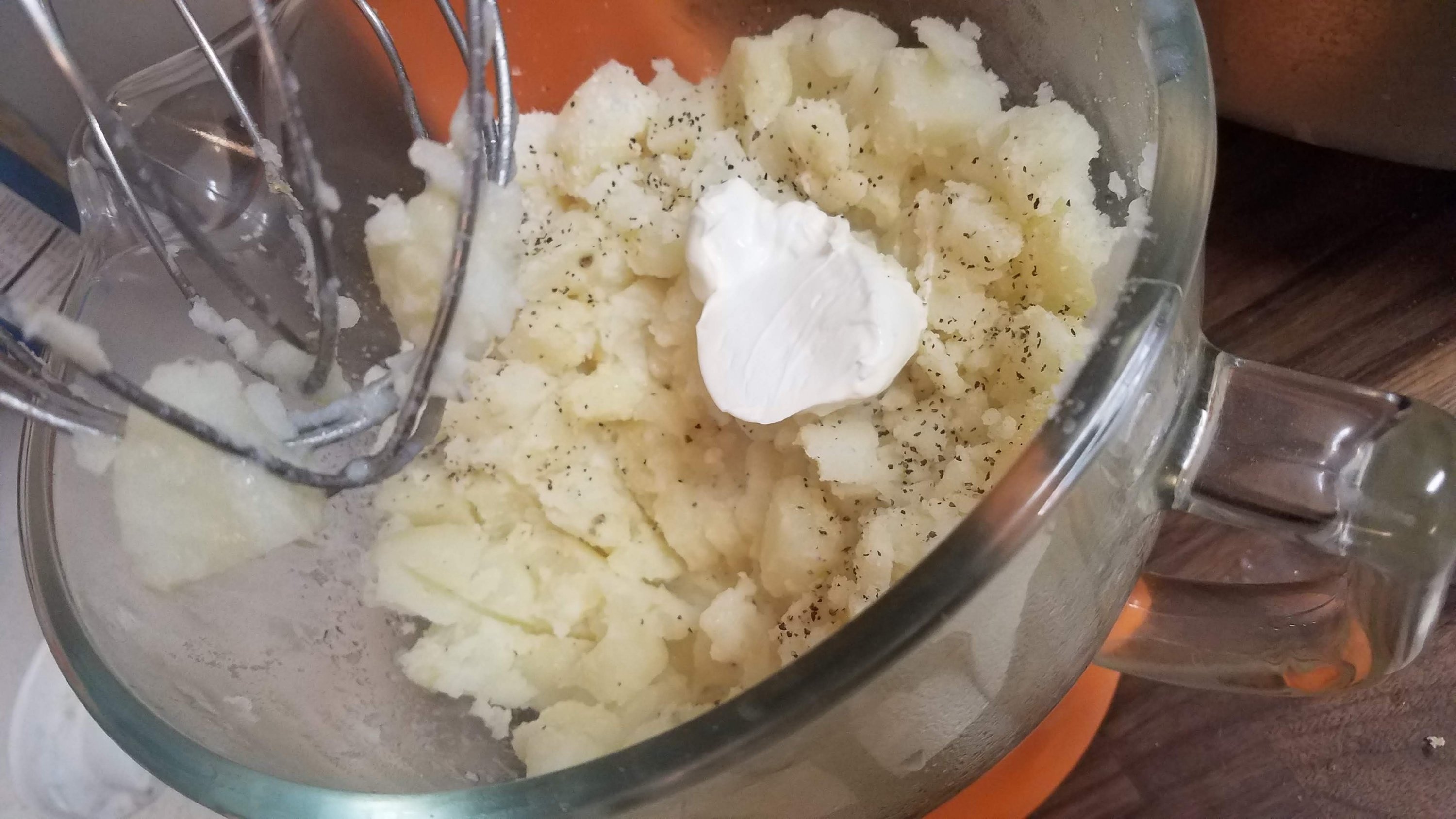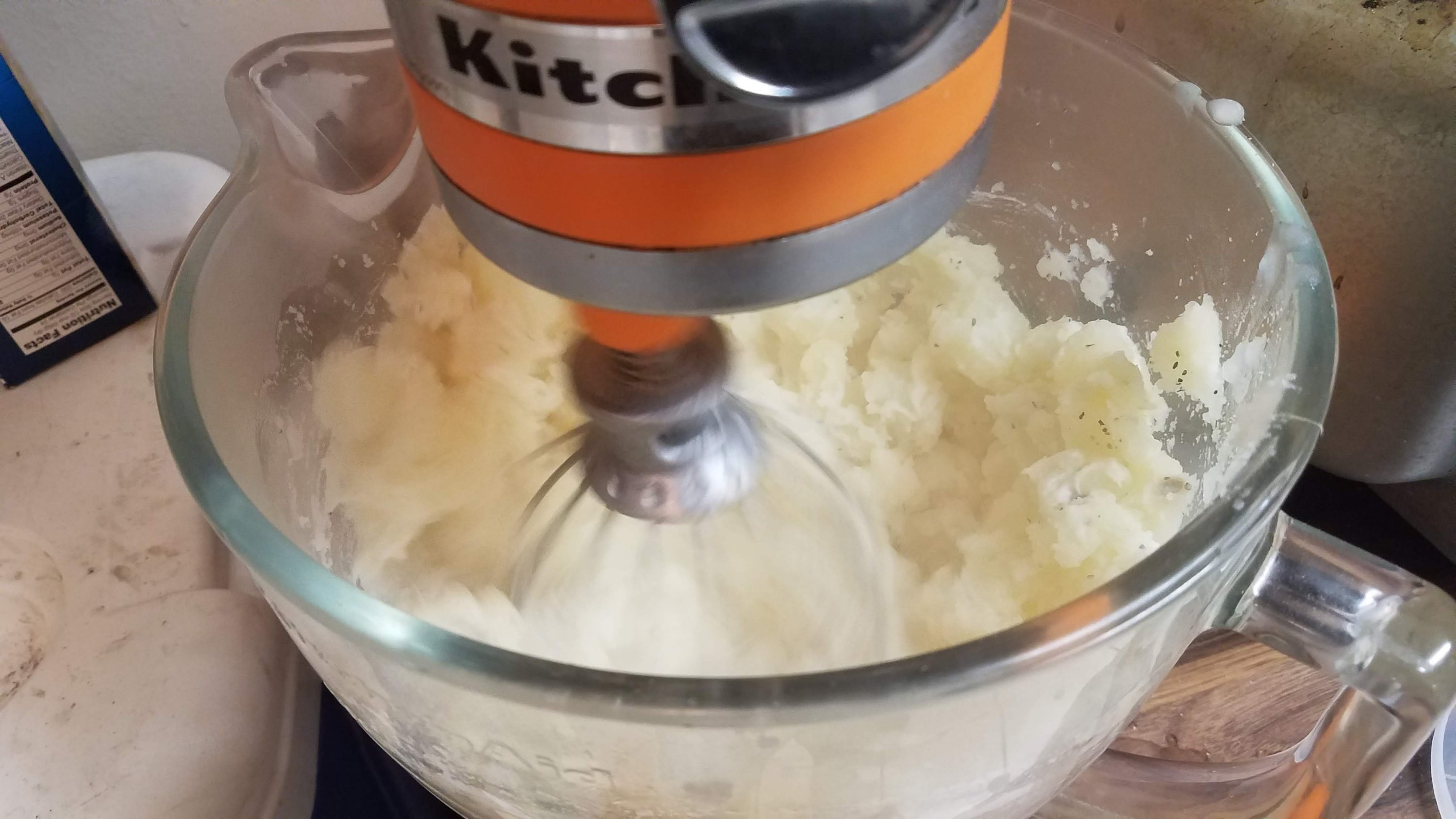 When the mixture has heated, pour over the potatoes, add sour cream and season with salt and pepper! Whisk while stopping to scrape the sides until all are combined and taste for seasoning adjustments. VOILA. Easiest mashed taters of your LIFE.
Chicken Fried Steak
Now comes the fried glory of the story….our Chicken Fried (or country fried for some of you) Steak. Take 4 cube steak filets , rinse and pat them dry followed by seasoning them with salt and pepper. Grab 3 dishes and set an assembly line as so: Egg/Milk Mixture —>Flour/Seasonings —> Clean plate.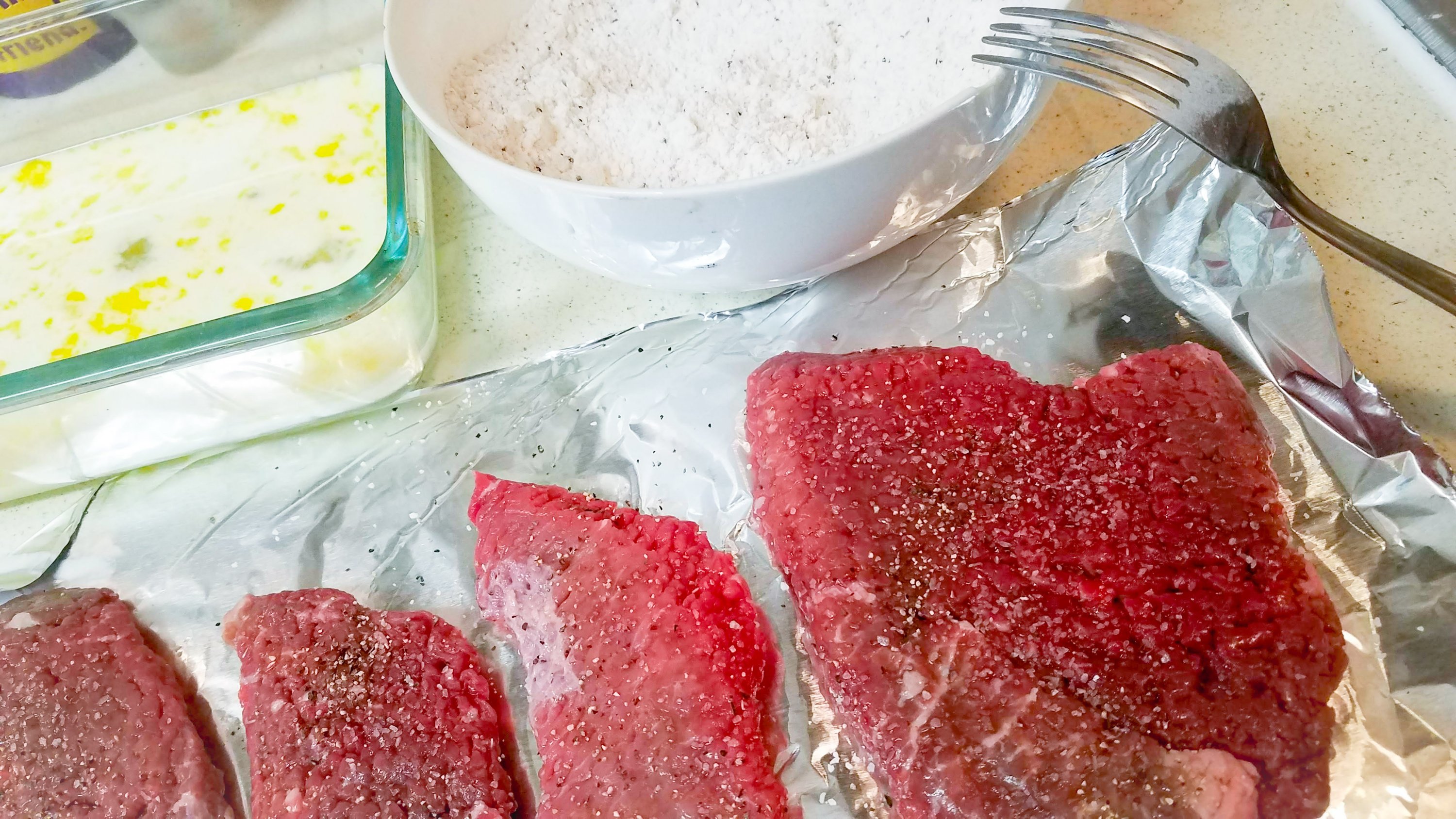 Before you begin, place 1/4 cup of canola oil over medium high heat in a shallow pan. You also want to heat an oven to 350* in the meantime. In the first bowl whisk the milk and eggs together. Grab another bowl and add the flour, salt, paprika, garlic powder and onion powder. Dip the steak in the flour, then into the egg, BACK into the flour and onto the clean plate.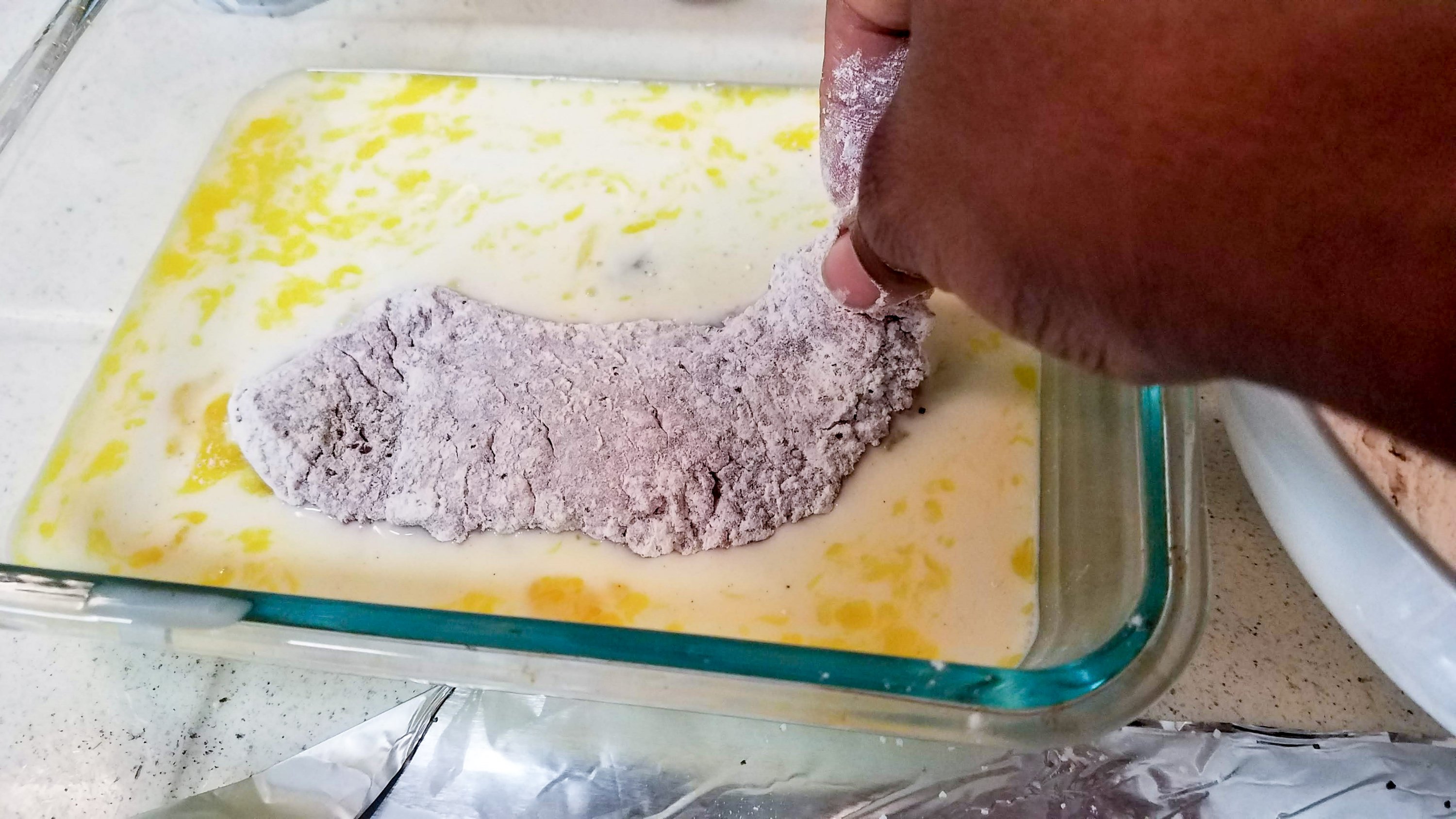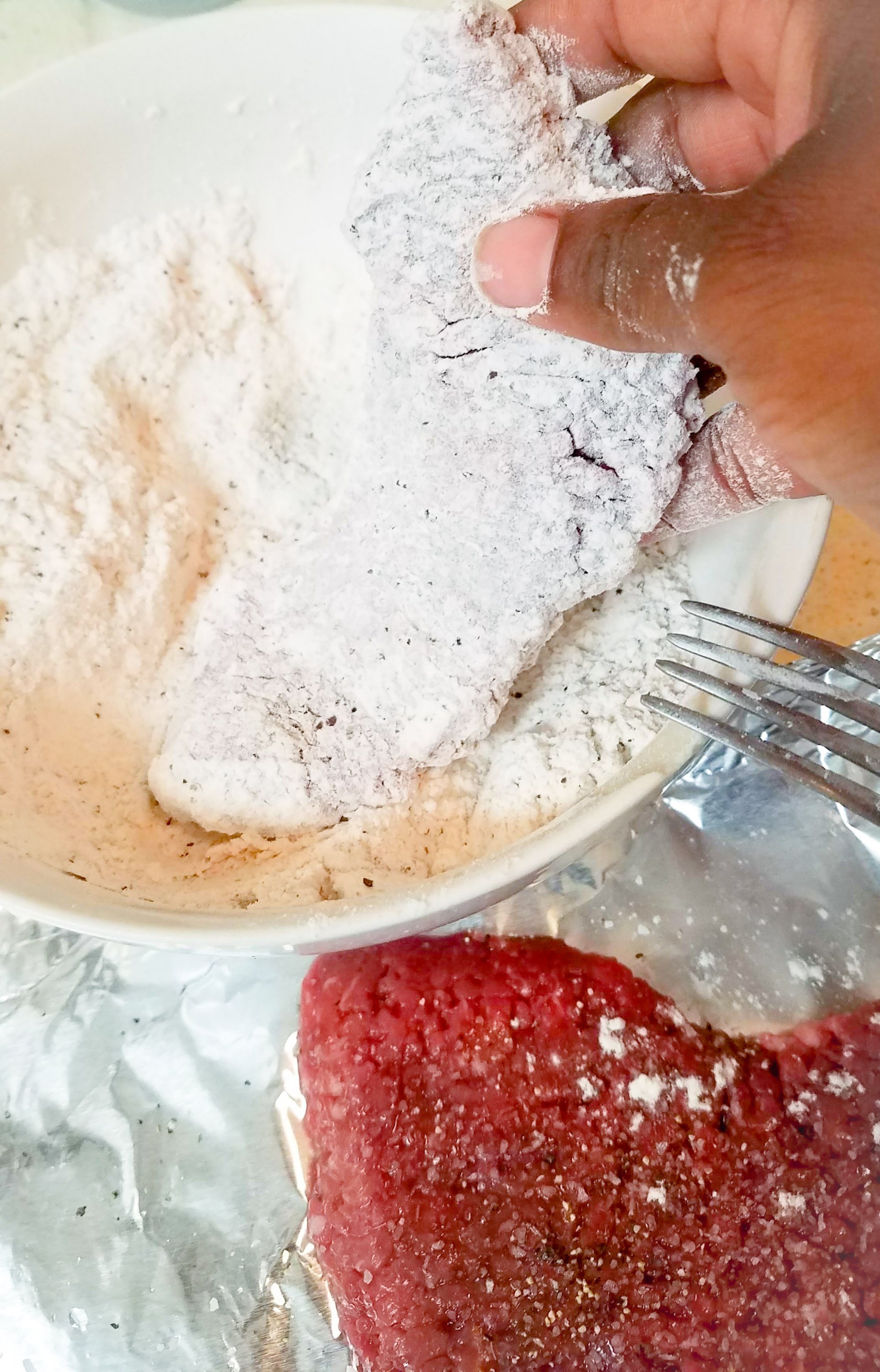 Once the heat is up to temperature, fry your steak on either side for about 3 minutes (or until edges are golden).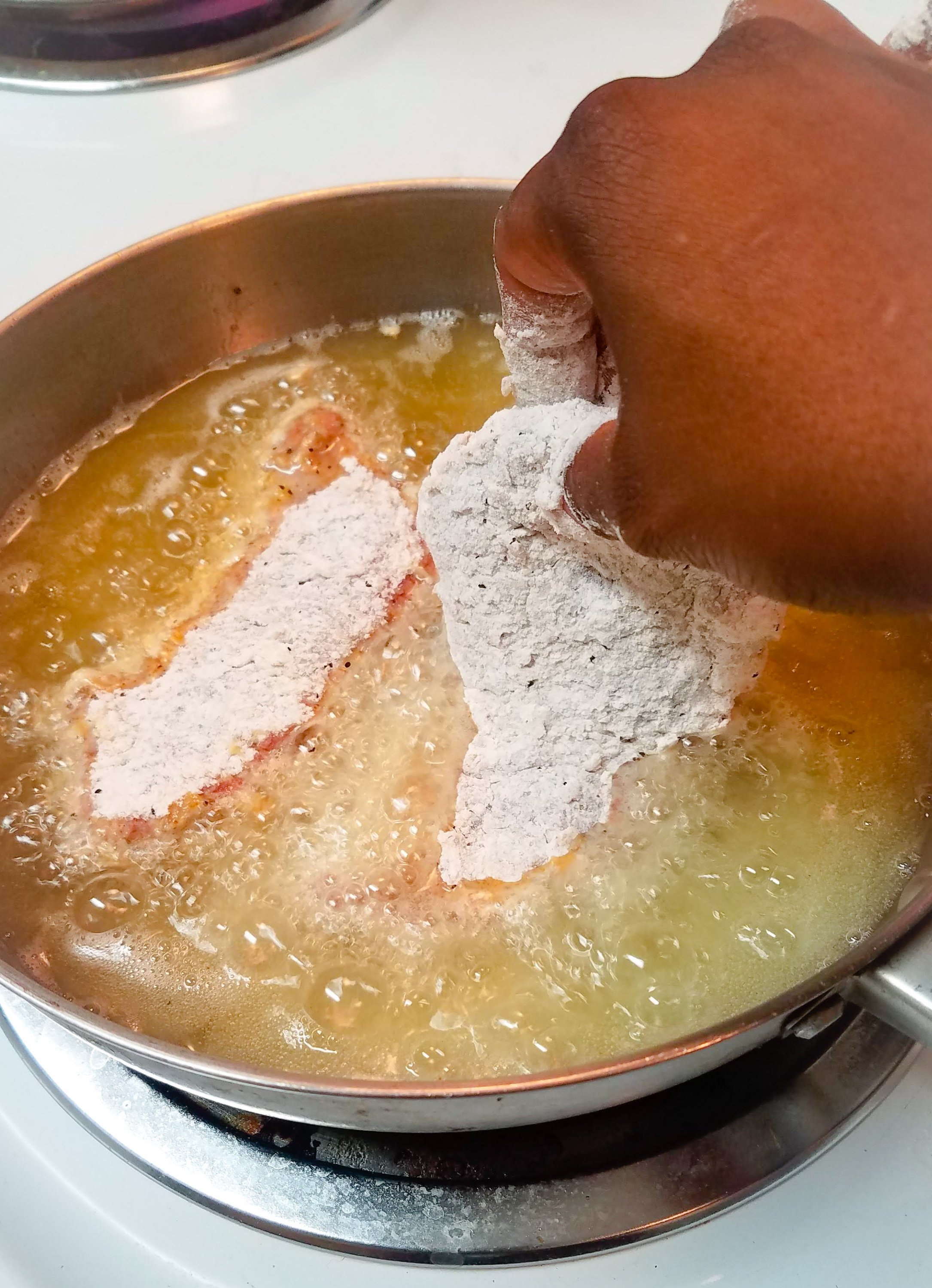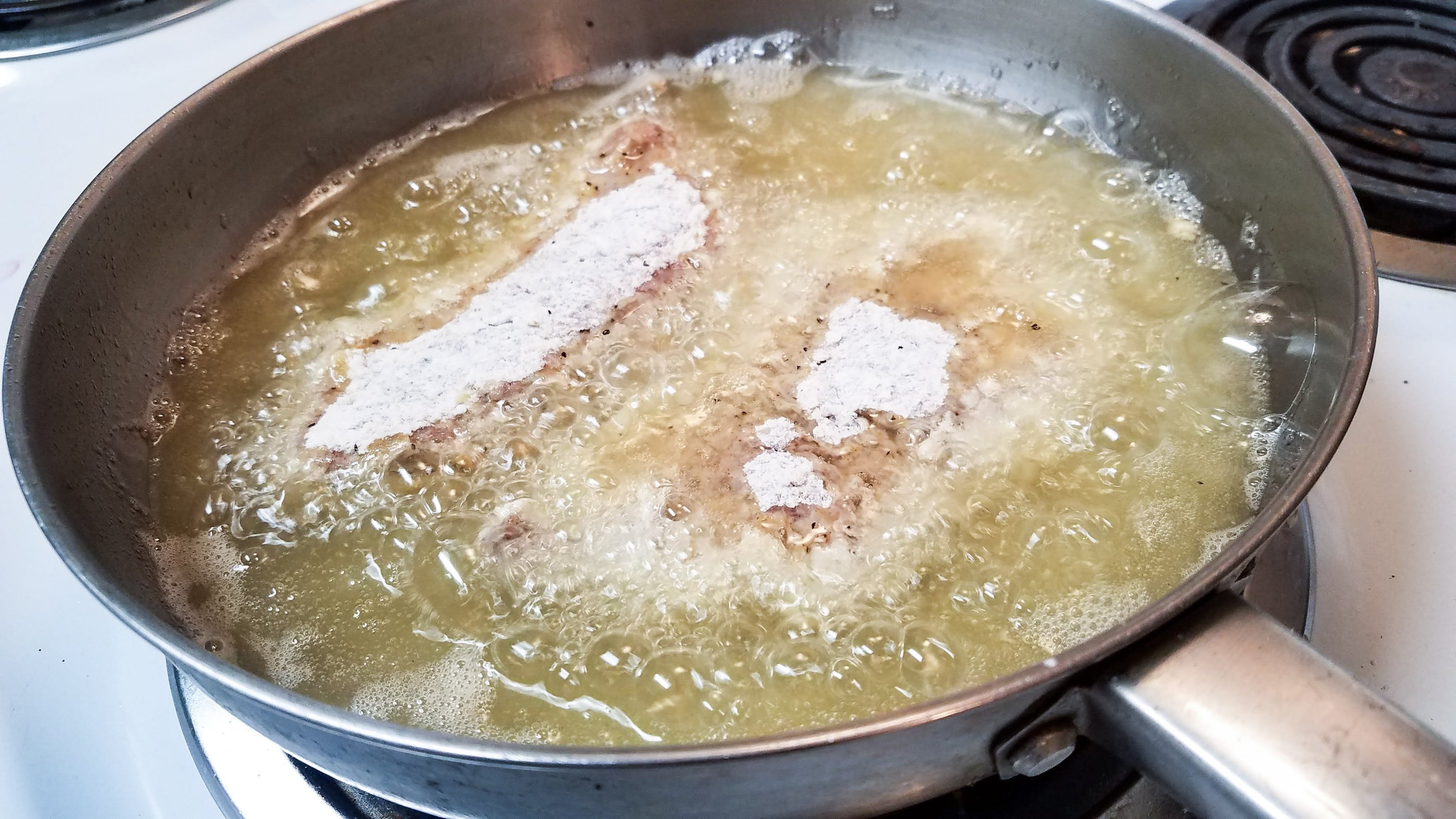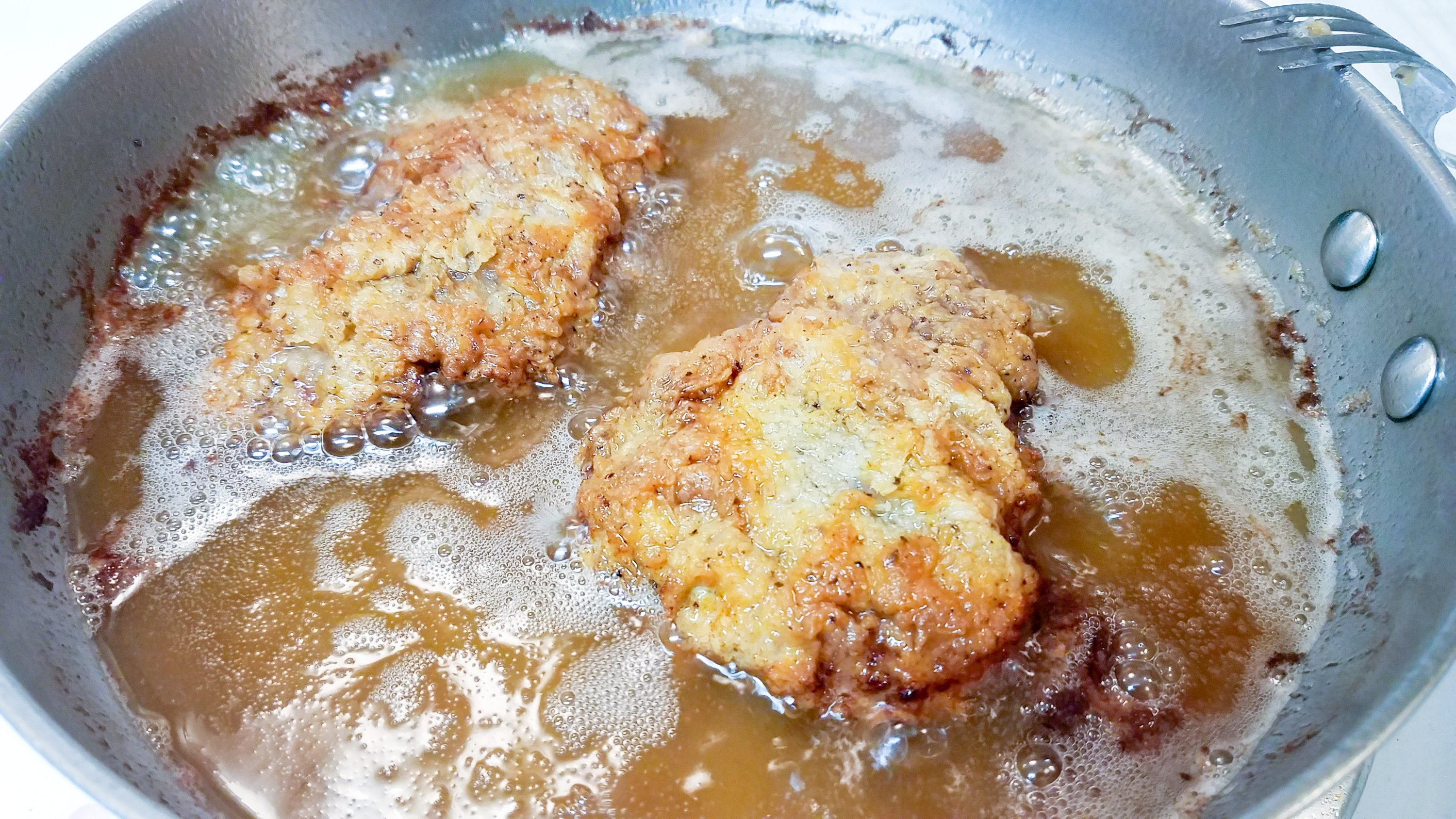 Place the steaks in preheated oven for about 10 minutes after frying to make the steak more tender and to ensure it's cook thoroughly.
White Gravy
OH white gravy….how I LOVE YOU SOOO. This is quick and easy so you can eat soon, I promise. Add 2 tbsp of butter and melt over medium heat. Add 2 tbsp of flour and mix to make a roux. Pour in one cup of milk with salt and pepper (about a 1/2-1 tsp of each). Whisk until smooth and pour this savory gravy over the steak and mashed potatoes and ENJOY!
Ingredients
Mashed Potatoes
4-6 Large Russet Potatoes
4 Tbsp of Butter
1-2 tsp salt
1-2 tsp black pepper
1/2- 1 cup of cream

1/4 cup of sour cream
Country Fried Steak
4 Cubed Steak Filets
1 cup flour
1/2 cup of milk
2 eggs
1 tsp salt
1 tsp pepper
1 tsp garlic powder
1 tsp onion powder
1/4 cup of canola oil (for frying)
White Gravy
2 tbsp of butter
2 tbsp of flour
1 cup of milk
1/2 -1 tsp of salt and pepper to taste
You can find all of your ingredients at Safeway at an affordable price!